We are the third largest school district in Ontario, serving the nine municipalities in the Regional Municipality of York. Our students consistently perform above average in provincial testing and the Board is one of the top achievers in Ontario. 
We believe all students can learn and succeed, and work hard to create safe, inclusive and caring environments that enable all of our students to thrive. Our dedicated and professional staff provide a range of learning opportunities that enable our students to develop their knowledge and skills, explore their interests and reach their full potential. 
Elementary Students
86,017
Secondary Students
42,053
Total Students (October 2022)
128,070
Programs and Supports
We provide a range of programs and supports that gives students the opportunity to explore their interests and develop the skills, attitudes and knowledge required to live up to their full potential.
Our Priorities
As the governing body of York Region District School Board, the Board of Trustees establishes a Multi-Year Strategic Plan that identifies our priorities as a school board. Centred on students, these priorities set direction for the Board and guide our decision making. Through the Director's Action Plan, Board strategies and School Improvement Plans, we are bringing these priorities to life in our schools and workplaces:
Foster Well-Being and Mental Health

Build Collaborative Relationships

Empower Ethical Leadership

Champion Equity and Inclusivity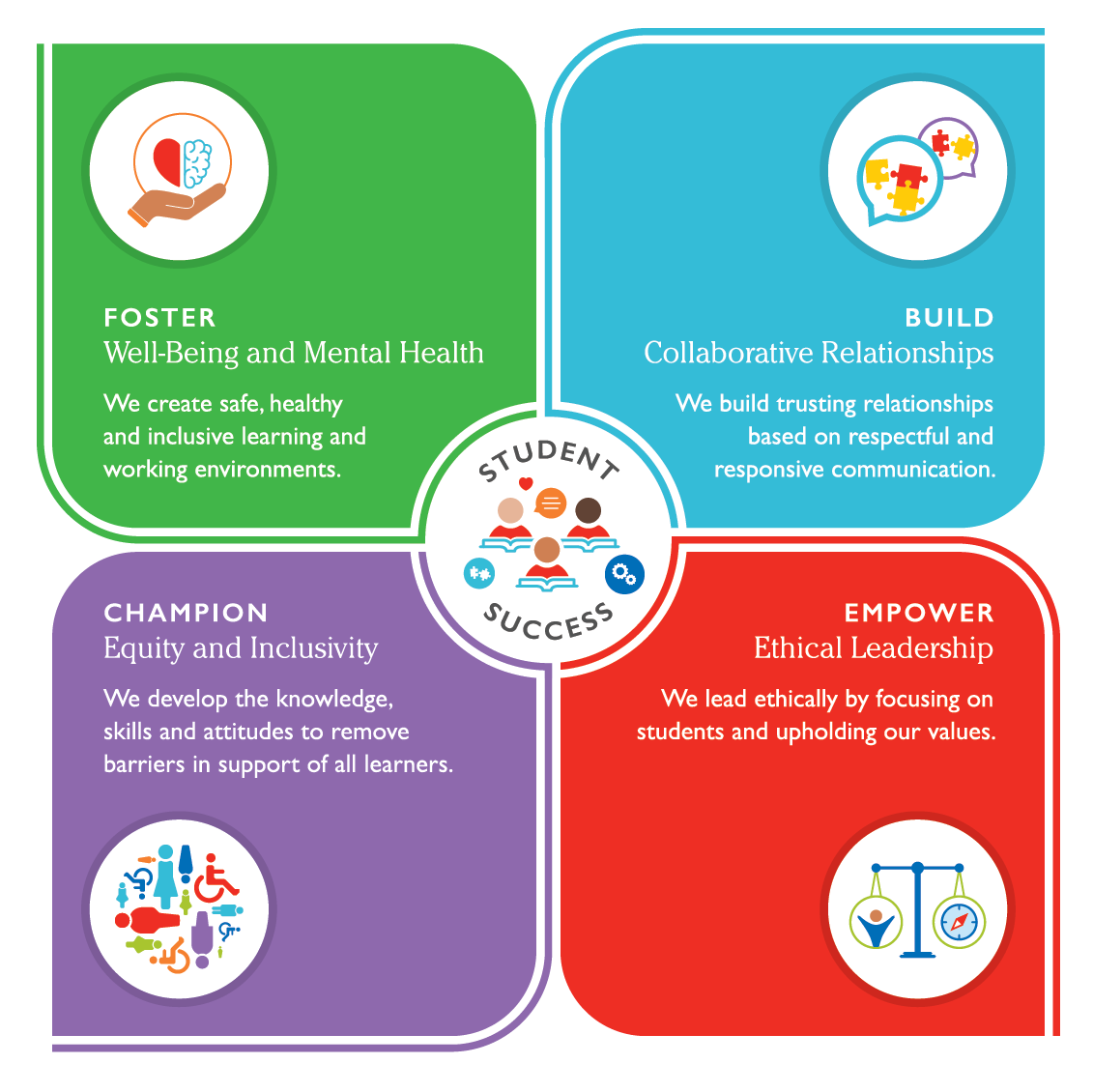 What's happening in YRDSB?
Stay up to date on what's happening in the Board and see the latest news, events and videos.
Visit our newsroom.
Our Community
We serve nine municipalities in one of the most diverse regions in Canada:
Aurora

East Gwillimbury

Georgina

King

Markham

Newmarket

Richmond Hill

Vaughan

Whitchurch-Stouffville
The diversity of York Region enriches our schools and we work hard to create safe, inclusive and caring learning and working environments where all of our students, their families, staff and community members feel welcome and respected and know their identities are valued. 
Our Staff
We are the largest employer in York Region with over 15,000 skilled and dedicated employees. We are committed to attracting, developing and supporting passionate, professional and skilled staff members and leaders across our organization. We are here to help. Learn more about the services offered by our departments, and how we can help you find the information you are looking for. 
Staff numbers by staff group

** Full-time equivalent

Updated 2022

---

 

The Ontario College of Teachers licenses, governs and regulates Ontario's teaching profession in the public interest.  The College's website provides a variety of information such as:

the ethical standards and the standards of practice for the teaching profession

the qualifications of Ontario Certified Teachers (Find a Teacher)

professional advisories

accredited teacher education programs

results from disciplinary proceedings.

parent brochure How We Support Ontario Students, available in multiple languages

| Staff Group | Numbers |
| --- | --- |
| Board Administrators (Superintendents, Associate Directors and Director) | 24 |
| Other staff – Managers (Business Administration, Computer Services, Research, Public Information, Pupil Transportation, Community Resource Facilitators and Managers not included in Student Support and Plant Operations below) | 178 |
| Elementary Teachers (classroom and central office) | 5,281.70 |
| Elementary Administrators (classroom and central office) | 313 |
| Secondary Teachers (classroom and central office) | 2,636 |
| Secondary Administrators (classroom and central office) | 116 |
| Plant Operations & Maintenance (Caretaking, Maintenance & Supervisory) | 1,223.80 |
| Professional & Para-Professional (Psychologists, Psychological Associates, Speech Language Pathologists, Occupational Therapists, Physiotherapists, School Social Workers, Lunchroom Assistants, Work Experience Coordinators, Consultants, Designated Early Childhood Educators, Audio-Visual Technicians, Intervenors, Library Technicians, Transcribers, Technology Support Technicians, Curator, ABA Facilitators, Athletic Assistants) | 889.40 |
| Teaching Assistants | 1,473.80 |
| Clerical and Secretarial (school and central office) | 887.25 |
| Total | 13,023.75** |