In this Newsletter 
---
Articles
Coop During the Pandemic
---
By: Sara Alves Fernandes and Alexis Gutfreund, Co-op Students @ Stephen Lewis Secondary School
Placements: The Eyeopener, Metroland 
Submitted by Sonya Kim, Head of Co-op @ Stephen Lewis SS
When we decided to apply for co-op, we could never have expected a pandemic getting in the way. Finding a co-op placement proved to be difficult, as everyone was still figuring out how to adjust to our new reality of COVID-19 and many companies didn't have the capacity to take on new interns. 
Thankfully, we were able to secure not one but two co-op placements throughout the semester. Our first placement at The Eyeopener, a student run newspaper at Ryerson, proved to be informative. The entire placement was virtual, however, this didn't take away from the experience.
In fact, because we worked virtually, we were able to partake in the online launch of The Review of Journalism, a Ryerson based magazine, where we learned about important skills such as fact checking. 
We worked our way up, building more confidence in ourselves and our work, by starting with copy editing articles to get a feel of the overall format and expectations all the way to publishing multiple articles on The Eyeopener website.
At our current placement, Metroland, a mass media company which is a collection of multiple newspapers such as The Toronto Star and The Vaughan Citizen, we utilized and expanded our knowledge from The Eyeopener by doing more hands-on work, publishing articles. 
Metroland was a different experience from our previous placement at The Eyeopener. It was more fast paced and we found ourselves publishing articles more often, even writing multiple at a time. 
Of course it's difficult working online, we weren't able to see an actual newsroom and meet with our supervisors face to face. We communicated fully online, through emails, texts and the rare phone call; however, we weren't able to get the full experience of being in an active work environment. 
Interviewing people proved to be a new experience, coordinating dates and times that suited the interviewees as well as our deadlines. For most cases we were given a list of possible sources we could use in our articles. Although for some, we were left to find them on our own, which was difficult in the online setting. You can't ask people questions face to face and when you post online, you can never be sure someone will respond.
Despite all this, we managed to get several of our articles published and learn about the effort it takes to successfully write articles. Our co-op experience was different from what we expected but still impactful. We got to learn skills that can apply to many aspects of school and multiple careers. This was an unforgettable experience that we will take with us for years to come.
You can view articles that we have published throughout this journey in the links below:
Working at the Vaughan Pediatric Clinic
---
By:  Lona Tofaj, Co-op Student @ Woodbridge College
Placement: Vaughan Pediatric Clinic
Submitted by Christina Bazzo, Head of Co-op @ Woodbridge College    
One thing about me is that I am horrible at making decisions. It is difficult for me to pick out my next book to read, let alone what I want to become in the future. Since I was in grade 6, becoming a pediatrician was something that sounded like I would love doing; however, throughout high school, I was not so sure anymore. When I heard about Co-op and how I could test drive a career, I immediately knew it was something I had to do. 
I was fortunate enough to take up a position at Vaughan Pediatric Clinic, where I would be able to get experience in the medical field. During the duration of my co-op experience, I watched procedures, took measurements of the patients, who were babies, such as head circumference, weight, height, and blood. 
At the beginning of my placement, I was completely and utterly discouraged when I went into the room to take the measurements, as every time I went in, I would come out with incorrect numbers. On the computer system, there is a growth chart and typically you will see a nice curved line that indicates the patient's growth. When I put the measurements into the system, I would nine times out of ten, mess up the growth chart. I constantly asked co-workers questions and asked for help when needed, in order to improve. They would give me little tips to ensure that my numbers became as accurate as possible. 
Right off the bat, this experience taught me patience. I expected to be amazing at everything from the start, and that is not the reality when you begin working  in a new environment. 
Day after day, practice after practice, I started to feel so much more comfortable working with those around me and taking on new challenges. In a job like this, you are constantly given the opportunity to develop and refine your transferable skills, like communication, collaboration, and time management skills.
At times, it was tough. I did not think it would be so heartbreaking to see some patients come in with certain conditions and illnesses. However, this is the reality in healthcare, and I am happy I got exposed to it now rather than later. I watched amazing doctors treat patients with so much care, which has been a driving force in my motivation to pursue a career in health care. 
Co-op has taught me so many things that really could not be learned sitting at a desk in a classroom.  This program and the learning experience that I got to be a part of has helped me decide the route I want to take in my life, and has taught me so much more about the pediatric profession itself. 
Accelerated OYAP – Student voice
---
By:  David Lovisa, Accelerated OYAP Regional Teacher, YRDSB
Vincent was a former Accelerated OYAP student in the Cook program and successfully completed the Level 1 Cook Apprenticeship at Humber College.  He is now working at Zen Restaurant as a Sushi Chef.  We recently connected with Vincent and asked him about his journey and how OYAP helped him along the way.
1)  Are you currently in the same trade that you started with in the OYAP program?
I am still in the same career path as cook/chef but a very different cuisine type that I originally started in which was Italian and French cuisine.
2)  How has OYAP contributed to your career path?
It helped me fast track through the knowledge [Level 1 in school training] aspect during high school and allowed me to quickly move along the ranks in the kitchen, despite being so young.

Watch YRDSB Accelerated OYAP Video
3) What is one sentence of advice you can provide to future OYAP students?
Even though you're young and in OYAP, put in the effort and hard work, it will be recognized and help greatly in the future as it would develop good habits. At the same time, know your own worth and do what's right for you as this is a good starting point in your career.
4)  What have you learned about what it takes to be successful in the trades?
To be successful, it takes hard work, skills, motivation, passion and a strong mindset as many would try to put you down along the way and call you not good enough [inexperienced] and discourage you.
5)  Briefly describe a "day in the life" in your trade
Every morning we say "good morning" to all the employees, get ready for work and set up our stations. The fish comes in daily from our suppliers in Japan and we process and prepare them. We get ready for lunch as the doors open at noon.  We make sushi, rice bowls and lunch sets. Dinner service starts at 4:30 pm and we change into more formal wear. We only serve omakase sushi or sashimi courses for dinner which comes with appetizers, 13 pieces sushi, hand rolls and dessert at the end. Once dinner is over we clean up, wash our station and finish for the night and go home. Sometimes, before leaving, we sharpen our knives for the next day.
6)  Briefly describe any challenges you have faced in the trade, how did you overcome them?
Throughout my OYAP experience, I've had a lot of discouraging moments such as "you'll never be able to be a chef" or simply "you're not good enough" despite all the effort, hard work and hours you put in. In these moments, it's best to keep your head up high, keep the passion that drives you forward and continue to put in the effort to prove them wrong. They might not see it, but other people along your career/life will. Never lose the passion for your career and remember why you chose it.
7)  Complete the sentence. I love my career because….  I am proud that I (built, accomplished, worked on/at) …  The coolest thing I have done / I have been so far is…
I love my career because it's a career that is hands on but at the same time makes people happy through food. I am proud that I worked with many famous chefs, been to manyprestigious restaurants and learned about many different cuisine types. The coolest thing I have done is meet Justin Trudeau and serve him as well as his guests. I was also able to serve Japanese ambassadors and senators.
I've also taken part in Japanese Cuisine and Food Culture Human Resource Development Program to learn about Japanese cuisine and have been invited to Japan to travel and learn more about Japanese culture and food.
Community Connected Experiential Learning (CCEL) and Specialist High Skills Major (SHSM) - A Community Partner Perspective
---
by Lucas Chang, Y2 Entrepreneurship Labs  
"Working with high-school students is a rewarding experience for many business owners and leaders in for-profit and nonprofit organizations.  These individuals have reached a point in their careers that they want to support youth who are just beginning theirs, and providing experiences such as co-op placements and joining classes as guest speakers are ways to give back.
Participating in SHSM Sector Partnered Experiences and ICE (Innovation, Creativity and Entrepreneurship) Training are two other ways that local leaders work with and help high-school students.  Joining as SPE or ICE Community Partners give leaders the opportunity to provide real-world challenges for students to tackle and, in the process of coming up with solutions, students learn more about working in a particular industry sector and gain skills that are immediately relevant in real-world jobs and occupations.  In these activities, students practice skills such as building a customer persona, creating a prototype of a solution, public speaking, user-centric design, time management and teamwork - all skills that are valued by employers today and tomorrow.
Many organizations have volunteered their time to join YRDSB SPE and ICE events as Community Partners before and during the pandemic - here are just a few:
Other organizations have also provided challenges to students to think through as part of the Community Connected Experiential Learning program - these include a diverse group of companies including Alair Homes, Clipwire Games, Creative Genius Academy, eTracks Tire Management Systems and NewStep4U.
These are just some of the businesses and nonprofits that are happy to set aside time to work with students in YRDSB, and help provide engaging and hands-on learning experiences that invite students to work through real-world challenges.
If you'd like to work with a local organization to tackle a current problem while learning more about a particular industry sector, please speak to your school's SHSM Liaison for more information!"
Community Connected Experiential Learning (CCEL) Project
---
Written by Anita McFarlane, Baythorn Public School
Edited by Joanna Bull, Experiential Learning Consultant
Baythorn Public School's Well-Being Team received a Community Connected Experiential Learning Grant to support an arts based initiative,  focused on re-imagining the YRDSB Land Acknowledgement through movement.​ This team was made up of Grade 7 and 8 students led by Anita McFarlane.
The Team started by reading and re-reading the land acknowledgement. The Crew brainstormed every detail including costumes, music, choreography, location, and camera angles, to move beyond the literal interpretation of the Land Acknowledgement. As a team they "bodystormed"; co-created movement phrases to express and interpret the meaning. There were weeks of choreography and filming practice. Our Well-Being Team demonstrated unbelievable dedication as they moved through this process; it took days to film and capture the audio and a few more months to edit. We are most proud of their efforts and feel that this interpretation may help others to examine and express The Land Acknowledgement to move beyond words in order to bring it to life.  
At the end of this video you will note written calls to action to aid other schools to also think and move beyond their current understanding of the Land Acknowledgement. We hope that you enjoy our interpretation through art as expression. 
Watch Video: Baythorn PS Land Acknowledgment through Movement ​
The video below "Interview" demonstrates the perspective of the students as they moved throughout this process.
Watch: YRDSB Interview Baythorn PS Video  
This project was created in partnership with Indigenous members of the community and The Academy of Creativity and Multimedia. 
Community Connected Experiential Learning Grants are available to all schools to support student based inquiry projects. The call for proposals memo is released twice a year, in the fall and winter. 
Grade 10 SHSM STEM Challenge
---

Written by:  Dennis Stam, Kristy Macdonald and Kelly Bradshaw, YRDSB Pathways Consultants
In the months of May and June, 57 secondary educators signed up to participate with approximately 1643 Grade 10 students in a Gr. 10 SHSM promotional event, in which educators and students took part in a pre-SHSM experiential learning opportunity.  Classes worked together on a STEM Challenge - Build Your Own DIY Prosthetic to promote the opportunities involved in the SHSM program.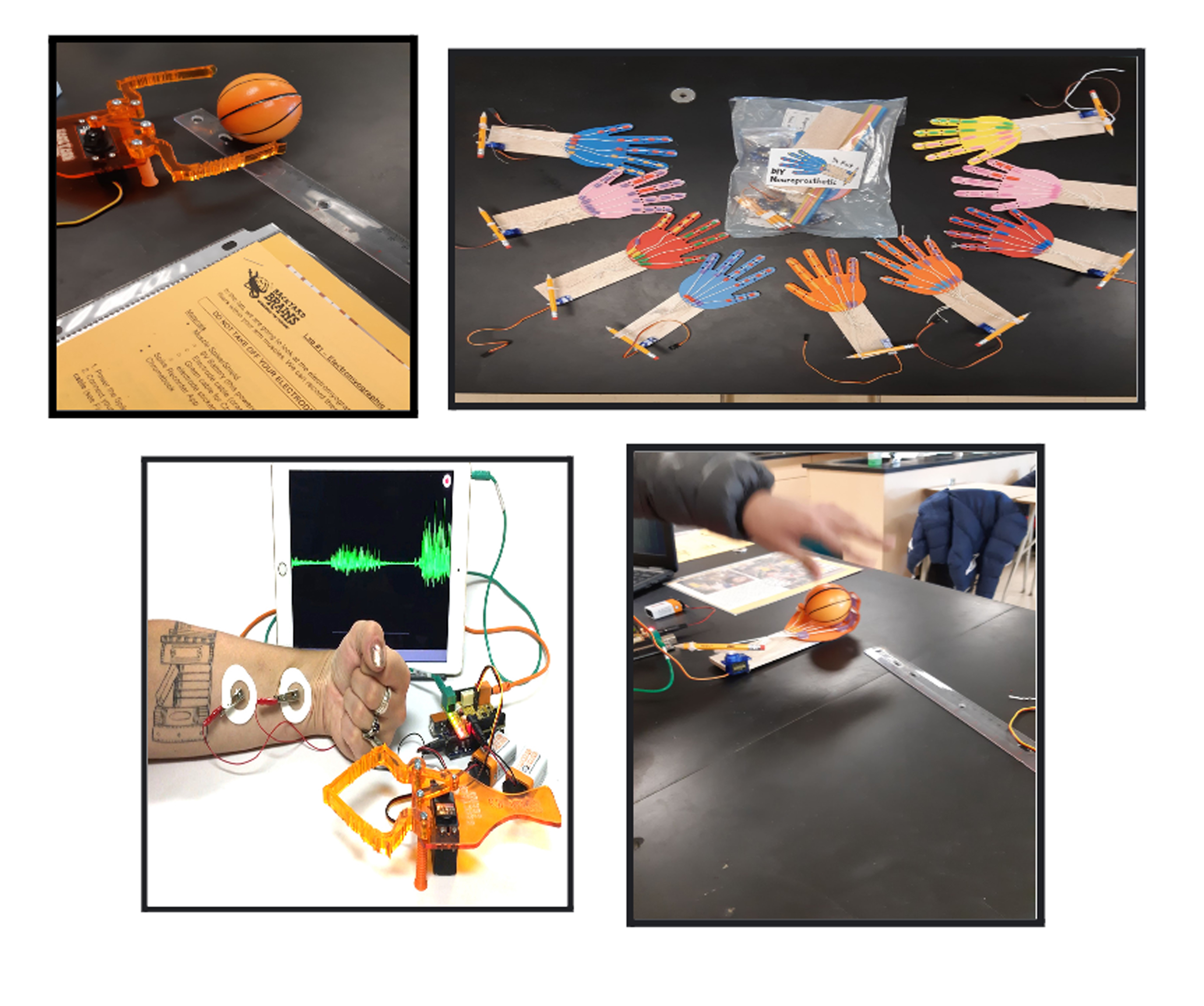 Participants were able to: 
deepen their understanding and knowledge of opportunities within the SHSM program and each of the school specific SHSM sectors.
explore experiential learning opportunities that connect to the SHSM program and curriculum expectations for grade 10 science unit in Biology - Cells, Tissues, Organs, and Systems of Living Things.
explore STEM careers related to various SHSM sectors through a series of individual pathway planning activities in myBlueprint. 
Thornhill Science Teacher: 
Erica Taylor: "As a science teacher I love learning new things and having an opportunity to include such a unique reach ahead STEM activity in our grade 10 science class was a terrific experience.  The equipment from the Backyard Brains program allowed us to try something really unique and I hope it helped students see the potential in pursuing a career option in the field of prosthetic design and bioengineering."

Thornhill Secondary School Student Quotes:
"These activities were quite interesting since it allowed us to understand how our electrical signals and impulses from the brain allow for control over our limbs."
"My favorite activity was with the DIY neuroprosthetic hand that we made where we saw how our nerves can control our fingers."
 "This activity helped me develop important skills like collaboration with my group members, time management (since we had to try to quickly finish the activities) and problem solving since we had to find a way to connect the neuroprosthetic equipment with our brains."
"This activity increased my interest in becoming a biomedical engineer."
"It has helped me discover new pathways that I hadn't considered before."
Watch: Grade 10 STEM video
For more information on future projects related to STEM, SHSM or Pathway Planning, please connect with Dennis Stam (Science-STEM-Pathways Consultant), Kristy MacDonald (SHSM- Technology-Pathways) Consultant or Kelly Bradshaw (Guidance-Student Success-Pathways Consultant)
Annual Fast Track Conference
---
On May 25, 2022, Grade 12 students from across YRDSB and YCDSB came together for a conference and Career Expo.  See the video below for more information!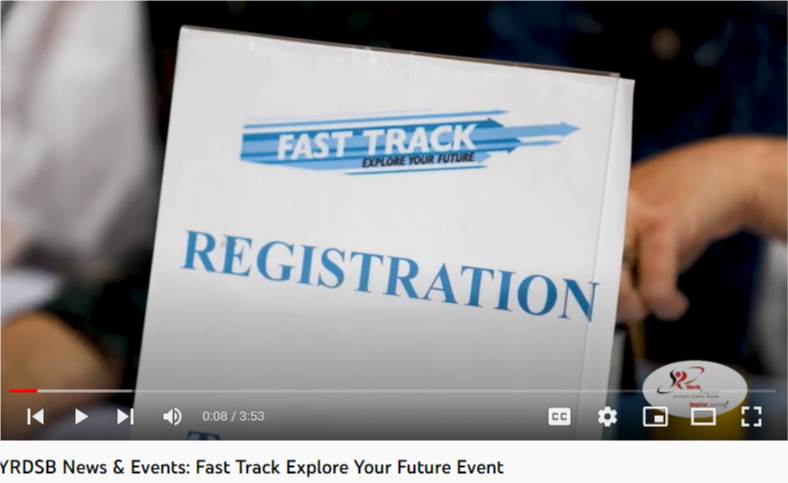 Watch News & Events Fast Track Video
Contact Us
---
Interested in hosting a Co-op Student? Visit Co-op Employer Registry.
Visit us at: www.yrdsb.ca/pathways
Twitter: @YRDSBPathways
Instagram: @yrdsb.pathways,@yrdsb.dualcredits
Mirella Sanwalka, Principal, C&IS, Pathways and Student Success
Reshma Badiani, Pathways Curriculum Coordinator Pathways
Linda Alati, Pathways Curriculum Consultant, OYAP, Co-op, PAE, SAL
Fadi Boutanos, Pathways Curriculum Consultant, Skills, Dual Credits
Kelly Bradshaw, Curriculum Consultant, Guidance, Pathways, Student Success
Joanna Bull,  Pathways Curriculum Consultant, Community Connected Experiential Learning        
Effy Kolianou Student Success Consultant, Student Success, Pathways
Kristy Macdonald, Pathways Curriculum Consultant, SHSM, Technological Education, EOP
Michael Minchella, Curriculum Consultant, Transitions, Pathways
Dennis Stam, Pathways Curriculum Consultant. Science, STEM
Diane Emery, Administrative Support
Pamela Hollands, Administrative Support
Randi-Lee West, Administrative Support