A newsletter to support those in York Region who work with students with exceptional learning strengths & needs.
---
World Down Syndrome Day
World Autism Acceptance Month
One Small Thing: Fostering Positive Mindsets
Spotlighting Excellence, Achievement & Community
Ignite Technology Graduation Grant Recipient - Daniel L.
Annual Parent Conference from the Learning Disabilities Association of York Region
Council for Exceptional Children - Yes I Can Awards
---
World Down Syndrome Day
On March 21st, schools across York Region celebrated World Down Syndrome Day (WDSD) by wearing colourful, fun mismatched socks. On our Student Services Twitter account, we shared messages about inclusion, why we celebrate Down syndrome on March 21st and how individuals with Down syndrome work at their jobs, go on dates and form ongoing relationships. Check us out on Twitter @YRDSB_SS to follow along with current events and highlights of our awesome YRDSB family!
World Autism Acceptance Month
On Friday, April 1st, YRDSB staff, families, and representatives from our valued partner organizations joined together at The Education Centre Aurora to raise the flag in recognition of World Autism Day on April 2, 2022. We all share a common goal - to support our students with Autism Spectrum Disorder (ASD).  
Did you know that YRDSB supports over 3,500 students with ASD, which is almost 17 per cent of our students? Together, we support our learners with ASD by understanding and valuing their individual strengths and needs, and by building learning environments where they matter and belong. 
During the month of April, Student Services will be celebrating World Autism Acceptance Month. Throughout the month, we will focus on moving from awareness of ASD, which emphasizes differences, to acceptance of ASD, which helps us focus on the commonalities we share and the beauty of diversity. We encourage all schools to share how they #CelebrateTheSpectrum by tagging us on Twitter @YRDSB_SS. 
One Small Thing: Fostering Positive Mindsets
The One Small Thing Mindset is the belief that small and intentional actions or affirmations can lead to meaningful outcomes or change.  Having a one small thing mindset means setting an intention to take small steps or actions within your control to enhance your mental health and wellbeing each and every day. Schools across YRDSB will be invited to participate by using a classroom toolkit with activities and resources, as well as posting via social media.  The One Small Thing Campaign video featured below provides some examples of how some of our schools are getting involved. For more information, visit the Mental Health Awareness webpage.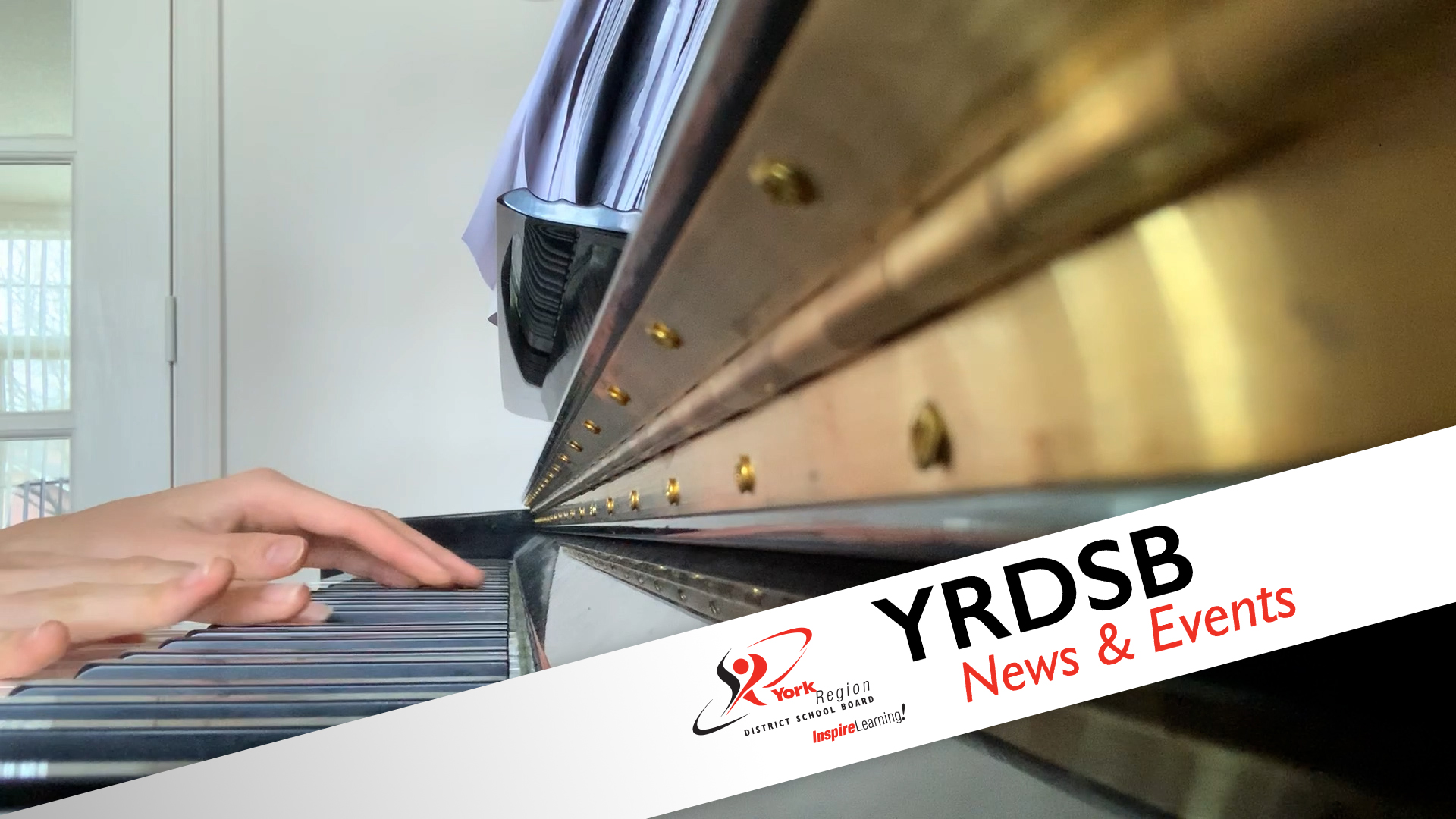 ---
Spotlighting Excellence, Achievement & Community
Ignite Technology Graduation Grant Recipient - Daniel L.
The IGNITE Technology Grant is designed to create leadership opportunities, hone communication skills, and increase self-esteem for students with SEA equipment within their school community. The Ignite Graduation Award is given to students with SEA equipment who have demonstrated leadership and success in their personal and educational careers. Recipients of the Ignite Graduation Award will receive $1000 to be used towards the purchase of personal technology to assist the graduating student in their post-secondary goals.
With   the   use   of   his   SEA   technology   Daniel   has   gained   independence,  leadership,  and   excellent   communication   skills     along   with   valuable   advocacy   skills.   He   has   become   and   continues   to   be   an   inspiration   and   leader   to   his   peers,    friends   and   teachers   in   the   school   community.  - Mary Sovran, CYW
Daniel is a grade 12 student at Stephen Lewis Secondary School and has recently been awarded with the Ignite Technology Grant, and has also been nominated for a 2022 Yes I Can Award in the category of Technology. Since grade 5, Daniel has been using his SEA laptop and has become a self-advocate and leader within his school community. Daniel has taken an active role in his educational journey. He has learned to use various software programs on his laptop and frequently uses speech-to-text to assist with his academics. Additionally, he assists in hosting his in-school team meetings and uses his SEA technology to email his team of supports independently to ask questions pertaining to his needs and post-secondary transition supports. As a result, Daniel and his supportive team have co-created a chart on Google Docs to organize future choices and options, including adult service providers for adults with physical disabilities. He then presented this chart to a group of students within YRDSB who were part of Youth IN Charge, a CTN/YRDSB/Holland Bloorview Kids Rehabilitation Hospital (HBKRH) partnership program focused on goal setting, leadership and future planning for students with physical disabilities. Daniel participated in this program over his high school career and as he gained more confidence and advocacy skills, he became a leader for younger students within this program.
Daniel's determination, ability to believe in himself along with the assistance and support of the SEA technology, has and continues to allow Daniel to succeed academically. The SEA technology has given Daniel the tools to exceed academically from essential courses and moving quickly into applied, college and even university courses. Through his hard work, dedication and perseverance, Daniel has been able to achieve his highest academic success and apply to college and university. Daniel has become an inspiration to his peers, friends and teachers in the school community. Congratulations Daniel!
---
Learning Disabilities Association of York Region
Annual Parent Conference - COMING SOON!
An Annual Parent Conference is held every year by the Learning Disabilities Association of York Region. The date for the 2022 Annual Parent Conference has not yet been released, but stay tuned for more information to come! Check out the LDAYR Annual Parent Conference page to learn more about previous and upcoming conferences.
Council for Exceptional Children (CEC) - Yes I Can Awards 
The 2022 Yes I Can Awards will be celebrated on May 18th at 4:30 p.m. Throughout the virtual awards ceremony, we will be posting updates and highlights on Twitter using the hashtag #YICawards2022. Follow along on Twitter and join us in congratulating all of our award recipients!
---
The SEAC meets on the first Thursday of every month. All are welcome to attend and observe. For more information about SEAC and our SEAC members, please visit the SEAC webpage.
Upcoming SEAC Meetings
| Meeting | Date and time | Location |
| --- | --- | --- |
| Budget Update; Shifting Practice: A New Vision For Physical and Occupational Therapy (PT/OT)   | May 5, 2022 at 7:00 p.m. | Virtual meeting  |
| Applied Behaviour Analysis (ABA) Facilitator Presentation | June 2, 2022 at 7:00 p.m. | Virtual meeting  |