What is character development?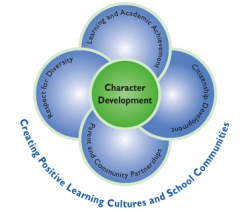 "Character development is the deliberate effort to nurture the universal attributes upon which schools and communities find consensus. These attributes provide a standard for behaviour against which we hold ourselves accountable. They permeate all that happens in schools. They bind us together across the lines that often divide us in society. They form the basis of our relationships and of responsible citizenship. They are a foundation for excellence and equity in education, and for our vision of learning cultures and school communities that are respectful, safe, caring and inclusive. Excellence in education includes character development. Through character, we find common ground." (Finding Common Ground; Character Development in Ontario Schools, K-12, 2008 )
Character Matters is one approach that York Region Schools use to create and support a Positive Climate for Learning and Working.