All students in grades 7-12 will develop an Individual Pathways Plan (IPP) that they will review and revise twice each year.
The plan will help students to: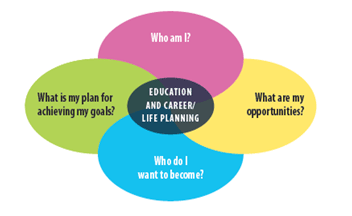 identify their interests and strengths

explore opportunities

make meaningful decisions

set goals for the future 
Parents and teachers are an important part of this student-led process.
The IPP is part of Creating Pathways to Success, The New Education and Career/Life Planning Program for all Ontario students (grades K-12).  The program emphasizes the importance of careful planning as students make their way through school.
The program is built upon 4 key questions: 
Who am I?

What are my opportunities?

Who do I want to become?

What is my plan for achieving my goals?
How can I support my children in the Individual Pathways Planning process?
Familiarize yourself with Career Cruising and the IPP.
All students in grades 8-12 select their courses online in Career Cruising and are familiar with this tool. They will now be using the ccSpringboard tool in Career Cruising to develop their Individual Pathways Plan (IPP).
Engage your children in conversations about the IPP. Help them as they review and revise their plans. Ask your children to take you through the steps for selecting a course or go to the Career Cruising tutorial.
Components of the Individual Pathways Plan (IPP):
assessments for skills and learning styles

career research

post-secondary research

scholarships and financial aid

educational plan (course selection)

goal setting

activities and experiences

assignments

journal 
As you have informal conversations with your children about experiences they may like to try based on their interests and strengths, you may want to direct them back to their IPP to engage in further research and to keep a record of their ideas and learning.
Read the frequently asked questions  and learn more about the IPP.
Engage in IPP conversations with your children.
Although they may not always say it, students think a lot about their plans for school and the future. Working on their Individual Pathways Plan (IPP) is an opportunity for them to reflect on and talk about this planning process.  
Take every opportunity to engage in informal conversations with your children about some of the opportunities that may be available to them. Direct them back to their IPP to check on their interests, skills and learning styles and how these relate to the choices they can potentially make while in school and beyond.  
Value the subjects and types of courses that your children are choosing based on their interests and preferred learning styles. Emphasize the importance of valuing all initial post-secondary destinations  as viable options that honour their individuality.
There are conversation tips  available to help you with conversation starters and potential
anecdotes.  

It is never too soon to start.
Help your children become acquainted with and use their IPP on a regular basis. Remind them that they can access their IPP on all their digital devices.