In honour of Black History Month, York Region District School Board will be celebrating Black excellence throughout the month of February and beyond by sharing stories of our students, alumni, staff, community members, community partners, Board and our region as a whole.
Stories may be shared by YRDSB in the following ways:
Written feature stories/profiles
Social media profiles
Videos
Do you have a story of Black Excellence about yourself or someone you know? If so, please consider nominating a student, alumni, staff member, community member or York Region resident. All members of the YRDSB community are encouraged to make submissions.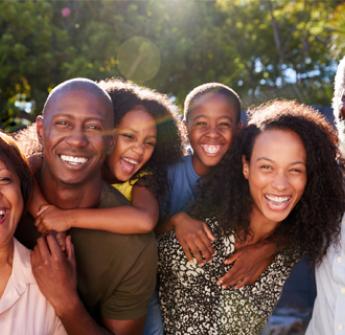 Celebrating Black Excellence Nominations
All members of the York Region community are encouraged to make nominations.
Celebrating Black Excellence Features
Learn more about some of the amazing individuals in our community.
"If you stay ready, you don't have to get ready," is a quote by famed actor Will Smith.  It's also the notion by which Bayview Secondary School Principal Arlene Higgins Wright lives her life.  
Born and raised in the GTA by her parents with her two siblings, Higgins Wright spent most of her early years in a multicultural, developing suburb.  She attended schools with classmates from a multitude of backgrounds, many either first-generation Canadians or recent immigrants.  It was in this situation that Higgins Wright gained a genuine appreciation for differences and similarities in people's backgrounds and experiences.  It was also where she developed a passion for learning that continues to serve her to this day.  
The family relocated to York Region during Higgins Wright's final semester of high school.  After completing her OSSD, she entered university with the goal of becoming a criminal lawyer who helped youth in trouble with the law.  Due to varied experiences during her undergrad, Higgins Wright discovered she'd rather work with youth before they experienced any legal challenges and turned her focus towards education.  A year later she had both a Bachelor of Arts and a Bachelor of Education.  Later on, she would also complete a Masters in Education.
Higgins Wright began her YRDSB journey in 1994, with a part-time role teaching science at Thornlea Secondary School in Thornhill.  It didn't take long before she held a full-time role at the school and taught science, history, social science and English.  She held various roles on her way to her present position including: coach, club staff advisor, assistant department head, department head, curriculum consultant, literacy teacher, learning network co-chair, member of numerous committees and vice-principal. 
"Each of these experiences has deepened my understanding of systems which has enabled me to make better decisions, ask better questions and engage a creative approach to develop solutions collaboratively," Higgins Wright explained.  
When she was named principal at Bayview S.S., she was excited to be able to continue the work she began as a vice-principal.  Bayview is the second oldest high school in Richmond Hill, having been opened in March 1960.  To honour the history of the school, the staff have put up photos from the early years of the school that are captioned "Where We Were" and then current photos of "Where We Are Now".  
Higgins Wright explained that they are "showcasing the diversity of people and programs that we are proud to support, and intend to carve out spaces to continue to reflect the ways we are evolving.  In this same artery, we have artwork that was created by our students with the support of an Indigenous artist in residence.  It is beautiful and a testament to the history of the land and its people who were here before us."
While she's been in a school leadership role  for several years now, Higgins Wright continues to work hard to develop her skills.  "I do my best to carve out time to just focus on leadership as a skill set.  This time includes reading, watching, listening, reflecting and seeking wisdom from people and industries outside of education.  I try my best to evolve my learning in order to be a better leader," she explained.  
Higgins Wright listed skills such as the ability to listen, practice humility, maintain calm in a crisis and seek connection to something bigger as skills she sees as important in a leader.  According to Bayview S.S. Vice-Principal and Nominator Seiji Ishiguro, she's demonstrating these attributes well.  "(Higgins Wright) is always a steady voice and mind throughout all of the uncertainty we have faced, as a school and a Board, over the last two years. Her willingness to listen attentively to all the needs of her staff members, and her desire to do better and to be better, every day, is truly inspirational," he said.  
Higgins Wright said she feels the most proud of the support role she's played in the lives of others, as she explained "over the years, this has taken on different forms depending on people and circumstances.  Working to assist people in achieving goals that might include: credit accumulation, increased self-confidence and feelings of efficacy, assistance through difficult times, for instance, is what fuels my passion as an educator irrespective of the role I've played."  She also thanks everyone who has supported her along her career path.  "Colleagues, mentors, friends, family members, and my children have been incredible throughout these years and I am so very appreciative," she stated.  
During her spare time, Higgins Wright likes to create by decorating and sewing.  She also enjoys spending time with her children.  
Elaine Ricketts knew from a very young age what career path she wanted to follow.  
"As long as I can remember I have been in a 'teacher' role," she said, noting that as far back as elementary school, she was working with kindergarten students. It was then she discovered her love of working with children.  
Ricketts was born to Jamaican immigrants and was the first person in her family to earn a degree.  As soon as she started working, she began giving back.  Joining York Region District School Board (YRDSB) in 2006, Ricketts started out as a junior (grades 4-6) homeroom teacher before becoming a special education resource teacher.  She remembered her time working in special education fondly, as she explained "it was rewarding to watch (students with exceptionalities) grow and develop with an increased sense of confidence and self-worth."  
Ricketts is now a vice-principal in YRDSB, splitting her time between Coppard Glen Public School and Milliken Mills Public School.  Prior to her current placement, she was an administrator in Elementary Virtual School North.  While it wasn't a position she ever could have anticipated herself holding, she looks back upon it positively, noting that she gained a lot of new technical skills.  She also continued to prioritize connecting with students.  "Being online, I thought it was even more important to connect with students and share with them how proud I was of their work because you don't see teachers and students walking through the hallways and I couldn't visit classrooms the same way.  I felt honoured to be included in classroom activities," she said.  Her commitment to connectedness and togetherness is reflected in the Malcolm X quote Ricketts includes in her email signature; "when 'I' is replaced by 'we', even illness becomes wellness."
There are several other leadership traits that Ricketts brings with her to her job both online and in person.  Her nominator Karen Traynor (a former EVS teacher who now teaches at Northern Lights Public School) describes her as  "a voice of calm, reassurance and energy to keep going." Ricketts would advise others looking to learn this skill to "be a sounding board, a sense of security and a source of reassurance, especially during a climate where we are filled with so much uncertainty.  There is so much to learn from being a good listener."
Being a good listener is another quality trait that Ricketts brings with her to everything she does.  "Elaine is a true mentor. She thinks about her staff, students, families and the community when making decisions. She takes the time to listen, understand and ensures you know how valued your voice is," Traynor said.  
"As educators, we are in a position of service to our students, families and the community.  We need to meet their needs and work to empower them so that they can gain confidence to navigate the world around them," she explained.  "I think empowering community voice is very important.  It's important for the community to express their preferences, needs and wants.  We want the community to have agency and to be able to advocate for themselves and teach their children to advocate for themselves as well," Ricketts explained.
Ricketts also brings her leadership qualities and advocacy for community voice to her work with the Alliance of Educators for Black Students (AEBS), an organization that is committed to promoting well-being and excellence in achievement for students of African/Caribbean heritage  "Since I have begun with AEBS, the organization has evolved and I have grown alongside it.  My experience has been fruitful.  We have been able to make a positive impact on our Black students and families throughout the years.  It is so important that our Black students are seen in the right light and heard with unbiased ears," she explained.  "Education is not equal to everyone and Black students are marginalized.  AEBS is here to help Black students have access to quality education where the standards are set high for them.  They deserve the same outcomes as their White counterparts."  Ricketts added that she is the most proud of the events AEBS has produced for students and families such as the Awards and Student and Family Conference.  
Outside of her work responsibilities, Ricketts enjoys all types of exercise and outdoor activities, cooking, eating home cooked meals and visiting warm places, both close to home and abroad. 
There are many different views of excellence.  Lawrence M. Miller said it was "not an accomplishment.  It is a spirit, a never ending process."  
Shaquille O'Neal called it "a habit," adding "you are what you repeatedly do."  
For Nicolette Bryan, it is this quote by philanthropist and media personality Oprah Winfrey that encapsulates the meaning of excellence.  "Let excellence be your brand.  When you are excellent, you become unforgettable.  Doing the right thing, even when nobody knows you are doing the right thing, will always bring the right thing to you." 
While Bryan is now a full-time Child and Youth Care Worker at Adrienne Clarkson Public School in Richmond Hill, Ontario, she has extensive experience and training supporting youth development from prior to joining  YRDSB.  A trained social worker, Bryan spent almost a decade as a Program Worker with YWCA Toronto, developing programs and offering support to the community.  After that program ended, she took some time to consider her next step and explore personal projects, before joining YRDSB as a Casual Education Assistant.   
As part of the community at Adrienne Clarkson Public School, Bryan has been described as a "role model" and had her work on supporting Black excellence described as "beyond exceptional."  She describes her views on this work by saying "I'm a Black woman who lives every day in this Black skin.  In this Black body lies so much learning, culture, knowledge and experience that has molded me into the person I am.  I come from a community that has experienced so much trauma, but yet has such a rich influence on society."  Bryan added that when she goes out into the world, she's motivated by all of the accomplishments that Black people have made, including her family immigrating from Jamaica to Canada, and Barack Obama being elected as the first Black President of the United States. "These are just a fraction of the accomplishments that represent Black Excellence to me.  It goes beyond just one month.  It should be honoured 365 days a year and beyond," she explained.
Bryan took action upon recognizing that a traditional Black Excellence celebration wouldn't be possible at Adrienne Clarkson PS due to the restrictions imposed by COVID-19.  She was asked to create a video for the school's Honouring Black Excellence assembly, something she described as a "great experience."  In the video, students were given the opportunity to share what Black history and Black excellence meant to them, and what learning they had undertaken during their studies. Bryan added she was "beyond happy and excited about the end-result."
While it takes a variety of hard skills to be a successful child and youth care worker, it also takes a variety of soft skills. One of these soft skills that is important to Bryan is authenticity.  She credited her parents, grandmother and family for fostering an environment in which she could be her authentic self.  "From telling my mom I wanted to do modelling at the age of six, to being the first in my family to graduate with a degree, I always felt supported and encouraged," she explained. 
Bryan lives this skill by fostering an authentic relationship between herself and the students in her school.  "This would be one of the most valued characteristics I model every day while working with students.  If I can't be myself and live my truth, then how can I expect my students to do so?" she explained.  "They see me being funny, feeling down and even serious too.  They see various sides of what makes Nicolette, but the main point is that they see me first outside of the role as a Child and Youth Care Worker.  It's important for students to know I was just like them too.  I want students to feel a sense of pride."  She added a quote by the late American poet Maya Angelou that helps motivate her; "I've learned that people will forget what you said, people will forget what you did, but people will never forget how you made them feel."
If she was asked to provide advice to a first-year Child and Youth Care Worker, Bryan once again suggests being your authentic self, as well as being open to learning,  She also encourages new CYWs to consider why they chose that path.  "I think it's important to understand why (they chose this path), because it can bring so much meaning to the work you do every day.  You need to dig deep within yourself and pull from the place that made you feel a certain emotion or feeling," she said. She also encourages staff to "advocate for the students because they need your voice."
When Bryan isn't at work, she can be found pursuing one of her other passions.  She loves to travel, is a self-professed "foodie" and creative photographer and videographer.  She can also be found flipping through the pages of Essence Magazine, a magazine catering to Black women.  She also enjoys fashion, pop culture, music and dancing.  
Leadership takes many forms.  Over his 27 years with York Region District School Board, Steve Gardner has demonstrated that caring and empathy is central to all of them.
"We talk a lot in the YRDSB about ethical leadership, and Steve has been modeling this since before it was a term we, as educators, were made aware of," said Rick Hansen P.S. Teacher Jonathan Carr, who started working at the school while Gardner was principal. "For me, I know exactly what ethical leadership looks like because I've worked with Steve."
Education was always of utmost importance in the Gardner family.  Born to Jamaican immigrants, Gardner was told stories of his father working full-time and then going to school at night to achieve his goal of becoming a Management Accountant.  Gardner's uncle was a teacher in Jamaica, working his way up to the role of headmaster (the equivalent of being a principal in the Canadian education system).  His uncle used to give him and his siblings books on special occasions, which Gardner said left an impression on him. 
Gardner started on his teaching path early, working summer jobs with Toronto Parks and Recreation and local camps while growing up.  "Education just felt like a natural fit.  I've always enjoyed working with kids, and seeing them develop whether in the classroom or through sports" he explained.  
While Gardner is passionate about teaching others, he is also a lifelong learner himself.  He was offered his first teaching contract with YRDSB just six months into his Bachelor of Education degree program.  While he stepped away from teaching after four years to pursue further education in his area of specialization, (Educational Administration and Sport Management) he would soon return to the classroom as a teacher once again.    
Gardner's leadership was recognized when he was named the first principal of Rick Hansen P.S. in 2012.   He called having the opportunity to open Rick Hansen P.S. "the highlight of my career."  He described the staff as "exemplary" and noted their hard work in ensuring they served the community.  "Community voice was a significant aspect of creating a vision for the school," Gardner recalled.  He said he still keeps in touch with some of the families that helped open Rick Hansen P.S.  The school's namesake also joined the community for the opening, creating an ongoing relationship between the athlete and the school.  
In September 2016, Gardner moved into his current position as Principal of Leadership Development.  "I've often said that there is no better role in the system, in that it has allowed me to have my hands in all aspects of our board," Gardner explained.  He is excited about the addition of Engagement to the department's role, seeing it as an opportunity to bring community voice into our work at a deeper level.  
As a system principal, Gardner is aware of the need to focus on equitable opportunities.  "We see inequities in all sectors.  This is our work," he explained.  Gardner uses an equity lens to frame his leadership when he asks, who is leadership serving and who is it not serving?. Who is benefiting and who is not? He adds that these reflective questions need to be surfaced if we are going to ensure that we do better by all.   
A big part of leadership is having an empathic and caring nature that is reflected in that work.  Past and present colleagues know Gardner as a man who leads by example and with his caring nature.  "(Gardner) never fails to take advantage of any opportunity to invest in those he works with, and he does it because he genuinely cares," Carr said.  
"To me, that is leadership.  That's the culture of care that we need to provide all who we work with, lead with, and learn with and from.  Family and community are so important to me, and I love engaging with staff and families to hear about their lives… that's being part of a culture of care.  We have more in common with one another than not, and when we don't, it's a celebration of those differences," Gardner explained.  
Outside of his professional responsibilities, Gardner enjoys fitness and reading, and is looking forward to playing basketball in a local men's league again this fall.  The next generation of the Gardner family is looking to make its impact on the education world as well, as one of Gardner's sons is currently in a concurrent Bachelor of Education program.  
If he was to offer a piece of advice to a beginning educator, Gardner combines his words with those of another influential educator.  He encourages educators to get to know their students and let them know that they are invested in their success and their struggles, but that's not all.  "It's ensuring actions are aligned with words.  Kids don't forget easily and nor should they.  I often use Dr. Carl James' language when he speaks to Community Referenced Approach to education.  Know your school communities; really get to know them," he explained.
Gardner continues to use a care-focused approach in his current role. As he explained; "at times, we have this sentiment that we have to portray ourselves in what we believe the role of "principal" is, and at times we lose ourselves in that.  I know that I want to spend time with friends and colleagues who are genuine and present in all they do in their interactions with me."
"Throughout my 18 years of living on this Earth, I have never been treated by a Black doctor and I would like to change the narrative and become the role model I never saw for Black children." 
For Pierre Elliott Trudeau H.S. student Nephertari Marshall, becoming a doctor would let her continue to give back to her community and continue to focus on her goal of fighting racial injustice and promoting inclusion. 
"I want to pursue a career in medicine because it is a way for me to give back to my community without expecting anything in return," said the high school student who is already giving back to her community in a number of ways while maintaining a 95 per cent average in school.  
Most Ontario secondary school students need to complete 40 hours of community/volunteer service in order to graduate.  Marshall has achieved that requirement more than six times over.  
Some of the organizations she volunteers with include: York Region Alliance of African Canadian Communities, Equal Rights Amendment, Boys and Girls Clubs of Canada and the YMCA.  During her time volunteering with these organizations, Marshall has organized events, volunteered with children's sports, dance and art programs and organized food drives.  
She credits her parents with instilling the passion of giving back to the community in her.  "I can remember going downtown with my parents to provide meals for the homeless..." Marshall recalled, "it was so gratifying to see the happiness on the individuals' faces after receiving the meals.  Since then, my mission has been to get involved with causes where I can affect and change the lives of others." 
Marshall's busy schedule doesn't slow down when she attends school.  Her favourite subjects are chemistry and drama, and she's involved with numerous extra curriculars, including the Trudettes, a feminist club that focuses on solving problems such as domestic violence, maternity leave and equal pay; and the Theatrics Drama Club, a group designed for students to learn more about the aspects of theatre.  Additionally, in the past year, she has become a French Peer Tutor, working with students in Grades 9-11 assisting them with writing and speaking French.  
While she hasn't picked a post-secondary institution to attend yet, Marshall remains committed to her goal.  "In the near future, I will be Dr. Nephertari Marshall, where I will be giving back to the community as a medical doctor," she said, adding that she hopes to volunteer with the Red Cross and other organizations to help people who have been affected by natural disasters or poverty.  
Even though the future doctor doesn't go looking for recognition, that doesn't mean she doesn't receive it.  Marshall was the recipient of the High School Student Award in Honour of Ms. Viola Desmond, something she described as "a very meaningful experience." Marshall noted that the award was special to her because it is named after Viola Desmond, a woman who stood up against racial injustices and influenced the Civil Rights movement in Canada.  "Winning the award is motivation for me to continue speaking up when I witness inequality or injustice, continue advocating for Black people in and outside of my community and to keep challenging the status quo like Ms. Desmond did," Marshall said.  
Even in her leisure time, Marshall uses her experiences as opportunities for learning.  An avid traveller with her family, she said "each time I visit somewhere new, I return home with a broadened sense of appreciation for the places I visit.  The memories I've made and the things I have experienced help to form new perspectives."  
"Trailblazer", "inspirational" and "brave" are all words that have been used to describe late Somali-Canadian Journalist Hodan Nalayeh, but she had another way to sum up her goal in life.  "I just want people to remember me as someone who is a unifier," she told Somali Activist Saciido Shaie. 
Nalayeh immigrated to Canada in the winter of 1984, along with her parents and 11 siblings.  The weather that greeted them was a departure from the tropical climate of Somalia.  The family arrived in Western Canada on a day when the temperatures dropped to negative 40 degrees celsius.  The family spent their first several years in Canada in Alberta before relocating to the Greater Toronto Area in 1992.  Nalayeh continued her schooling in Ontario, graduating with a B.A. in communications from the University of Windsor.  
Nalayeh explained on the Meaningful Work, Meaningful Life Podcast that she experienced success on the talent side of radio broadcasting while in school, however, after she graduated, she found herself on the advertising side.  She described her work after graduation as "selling air."  After the birth of her second child,  she decided to pursue her true passion of journalism. 
She went back to school to refresh her knowledge in journalism and decided she wanted to work for herself, rather than get another corporate job.  She even noted that as a child, she had dreams of becoming a TV host.
Nalayeh's sister Sahra said, "what I most remember about Hodan is her relentless belief in the importance of pursuing our passions and dreams.  She not only inspired others to pursue their dreams, she was a role model.  She was also never afraid to speak about her challenges and share her feelings about anything."
She founded IntegrationTV, originally airing on OMNI TV before moving to YouTube.  IntegrationTV is a channel that's description reads "Uplifting & Inspiring Somali Stories!  Connecting Somalis worldwide.  Changing our narrative."  Since the channel was founded on YouTube on February 15, 2014, it has garnered 90,000 subscribers and over 10 million total views.  The movement also has over 132,000 followers on Facebook.
Nalayeh posted a variety of videos on the IntegrationTV YouTube channel.  Videos range from exploring different areas and landmarks of Somalia to interviewing members of the community and discussing different topics on segments such as The Honest Corner. 
She moved back to Somalia in 2018, and remarriedlater that year. 
Tragically, she died in a 2019 terrorist attack at the Asasey Hotel that also claimed the life of  her husband Farid Jama Suleiman and 24 others.  
A memorial in her honour was held in Vaughan, Ontario on Thursday, July 18, 2019.  At the memorial, her sister Dega Nalayeh told CBC "words cannot express how I feel, but I can tell you today is not about the tragedy.  It's about celebrating her work, her achievements."
Nalayeh can now add another achievement to her list, having the former Vaughan Secondary School now named in her honour.  The school will look for ways to celebrate the renaming of the school and Hodan Nalayeh's legacy as well as recognize those community leaders that championed this change. 
 
Works Cited:
Lindeman, Tracey and Natalie Schachar.  "Slain Canadian-Somali journalist Nalayeh a trailblazer".  Associated Press. 13 July 2019. Web. 12 Feb. 2021. 
"Hodan Nalayeh: Somalia's 'inspirational' journalist, killed in Kismayo".  British Broadcasting Corporation. 13 July 2019. Web. 12 Feb. 2021. 
Udgoon, Ifrah. "On Hodan Nalayeh's brave legacy, and what it means to be Somali". Mail & Guardian. 26 July 2020. Web. 12 Feb. 2021. 
"Climate - Somalia". Climates To Travel. N.d. Web. 12 Feb. 2021. 
"'Don't give up on your passion': Hodan Nalayeh remembered as media trailblazer". Associated Press via Canadian Broadcasting Corporation. 13 July 2019. Web. 12 Feb. 2021. 
"#23 A Digital Platform to Change the Identity of a Nation Through Storytelling with Hodan Nalayeh". Meaningful Work, Meaningful Life Podcast via Stitcher. 10 June 2019. Web. 12 Feb. 2021. 
"INTEGRATIONTV". YouTube. 15. Feb. 2014. Web. 12 Feb. 2021. 
Nasser, Shanifa.  "'To see the light where there was no light': Hundreds gather to remember Hodan Nalayeh".  Canadian Broadcasting Corporation. 19 July 2019. Web. 12 Feb. 2021. 
"Integration TV". Facebook. N.d. Web. 12 Feb. 2021. 
Busari, Stephanie. "She moved from Canada to Somalia to tell positive stories, but ended up dead in a terrorist attack". Cable News Network. 15 July 2019. Web. 12 Feb. 2021. 
Siad, Dr. Sadiyo.  No Title.  Twitter. 20 Nov. 2018. Web. 12 Feb. 2021.  
Since kindergarten, Tisha Nelson has known that she wanted to be a teacher. Born in Toronto, but raised in Vaughan, Tisha has always been driven to learn, teach and lead. Tisha has been an educator in York Region for 11 years, has been a Vice-Principal for three years, and is now teaching at the Faculty of Education at York University.
Through her journey as a student, turned educator, and once again turned student, one thing she has reflected on is that she and her siblings have had different experiences in the education system which may have led to different outcomes. Tisha recalled, "Education is not a one size fits all. Even though we went to the same schools, we had parallel experiences." Tisha credits some of her success to a teacher she had early on who helped her find her voice through writing. Tisha is now a published author. 
Beyond teaching and writing, Tisha has had an affinity for leadership, and is committed to supporting diverse learners. In 2017, Tisha was named Teacher of the Year, partly due to her ability to motivate learners, foster inclusion and belonging.  Since Tisha became a teacher 11 years ago, she immediately joined the Alliance of Educators for Black Students (AEBS), an affinity group which supports Black students. Although this was not her first interaction with AEBS, as she won an AEBS award as a student at Hodan Nalayeh SS (Formerly Vaughan SS) several years prior. Her involvement in AEBS and in leadership stems from the desire to "create safer spaces where students could be seen, have their presence rooted. All teachers need to make students feel like they belong and that they matter and that is the first step in serving," says Tisha.
When asked, what is her aspiration? Tisha responded, "To change the world, and the way students experience schooling so that they can realize their full potential." Tisha wants students to not be afraid to take risks, to learn from their failures, and to realize their agency and voice.
Dictionary.com defines excellence as the fact or state of excelling.  At the age of 15, Newmarket High School's Fola Olusanya is living this definition as he writes his own story.  
Coming from a family of Nigerian immigrants, Olusanya credits his parents and friends with motivating and empowering him to maintain his high grades in school.  Described by Newmarket H.S. Teacher Deneena Davis as a "strong academic," Olusanya has aspirations of attending medical school after graduation, something he notes is a very competitive field.  Olusanya enjoys many subjects, specifically history, English, French and science.  He's not letting the pandemic put a damper on his school experience either, noting "I have been able to stay upbeat about learning because I know that focusing now will help me out in the next few years."
While remaining committed to his studies, Olusanya is also very involved in other aspects of his schooling and with his community.  He serves as a junior representative for Grade 10 students on the Newmarket HS student council.  In this role, he ensures the ideas and issues of the wider school community are heard and (if possible) acted on.  In the future, he'd like to see tools such as Instagram and Google Forms used to streamline the communication of ideas between students and their representatives.  
His advocacy doesn't stop at the front door of Newmarket H.S.  Olusanya is a member of YRDSB's Regional Student Equity Committee and a student liaison for YRDSB's Anti-Black Racism Steering Committee.  After being invited to become involved with both groups by different YRDSB staff, the tenth grader became a strong voice on how to make school environments more inclusive and assisted with organizing a student-led conference where he delivered a speech on working together and amplifying the voices of others to spur positive change in local schools.  
In another example of demonstrated leadership, Olusanya serves as treasurer of the Newmarket Youth Leadership Group, a group working to empower youth and create more youth-driven opportunities and activities. The treasurer's role in helping the group meet this mandate is recording transactions and keeping track of expenses and money raised, but Olusanya takes it further, adding "I try to provide ideas that we can use to create a more active Newmarket, and to provide leadership opportunities to the kids of Newmarket."
When he's not focused on his studies or hard at work with an advocacy group, Olusanya can sometimes be found on a local soccer pitch, representing East Gwillimbury Soccer Club.  His favourite player is Real Madrid's Eden Hazard. While he admires Hazard's calm demeanor and love for the game, the player he most models himself after is former Chelsea Footballer Ashley Cole.  Cole and Olusanya both play left back (although Olusanya also plays centre back).  Olusanya cites Cole's ability to make tackles without fouling and read the game well as reasons to emulate his game. He also admires Cole's resilient mentality, which is something he is trying to continue developing himself, both on and off the pitch. 
In the little time he has away from his many commitments, Olusanya enjoys reading, most recently having completed Sycamore Row by John Grisham.  His favourite genres include thrillers, dystopian novels, realistic fiction and biographies of politicians and public servants.  Olusanya also pays close attention to the news and enjoys being up-to-date on current events.  
Works Cited:
"#7 Eden Hazard".  Transfer Markt. N.v. N.d. Web. 4 Mar. 2021.

"ASHLEY COLE ON HIS RETURN TO CHELSEA AS ACADEMY COACH, TAKING THE BEST OF MANAGERS HE'S WORKED WITH AND WHAT CONVINCED HIM TO COACH".  Chelsea FC. N.v.  17 Oct. 2019.  Web. 4 Mar. 2021.
Dr. Natasha Williams' journey was inspired by her mother. After seeing the effect her mother, as one person, could have on a community, Dr. Williams was inspired to become a psychologist as early as Grade 9. She is now a highly respected name in the field. "She was very selfless in terms of giving herself to the community," Williams said of her mother. "I wanted to make sure I had a career that embodied who I believe she was."
After Williams graduated from Milliken Mills H.S. in Unionville, she completed an undergraduate degree at York University and a Master's Degree at the Adler School of Professional Psychology in Toronto.  She decided to pursue her doctorate from the same school.  There was only one problem.  Williams wanted to pursue a Psy. D rather than a PhD as it focused more on clinical and practicum experience and that certification wasn't offered in Canada at the time. She was undeterred.  Williams enrolled in the weekend program at Adler's campus in Chicago, for its full-time program offered on weekends.  Every two weeks, she took the 10-hour Greyhound bus trip from Toronto to Chicago for three days of classes before returning to Toronto for work. On rare occasions, someone would provide her with money to take a flight, however, most of the time, she now laughs, she had to take the bus.  
Her schooling also came with additional challenges.  Williams was one of few Black interns in her program.  In fact, she was the only Black intern in her department.  While her fellow interns said they were noticing a lack of diversity in their departments, Williams was witnessing diversity on a daily basis while working with patients in the psychological trauma program. 
At her placement, the organization would bring in experts to speak to different aspects of psychology, one of them being diversity. Unfortunately, the speaker brought in to discuss diversity was a self-professed non-expert in the subject and spoke only about an article they had read.  Knowing the importance of explaining diversity in mental health settings, Williams was upset with the way it was handled and issued a formal complaint to the internship coordinator. The complaint was handled quickly and Williams heard that Dr. Charmaine Williams from the University of Toronto had been brought in to teach future interns about the subject. 
Her experiences during her education helped shape the way she conducts her practice professionally.   
She addresses anti-Black racism, transgenerational trauma, anxiety, depression and more in her practice.She has taught an online course called Reclaim Your Superwoman about divorcing from negative mindsets and how social constructs affect women's health.  The course empowers women to take care of themselves and others.  
In addition to her work as a psychologist, Williams is also a keynote speaker and trains other mental health professionals.  She contributed to a book titled Carpe Diem, an anthology that features a collection of submissions from 24 women. Williams' chapter focuses on the archetype of the strong Black woman.  
"(Carpe Diem)'s given me a kick-start in regards to actually going into authorship," Williams explained.  She has recently completed her first ebook, focused on how selfishness can be redefined as radical self-care, which will be released soon. She is currently working on her first full-length book titled Reclaim Your Superwoman.
In a rare spare moment, Williams enjoys sports, (she was a rugby player in high school), live music and going out to eat.  It's also important to her to remain connected to her family. She is the Chair of the Board of Directors at her church, another community that is very important to her. It's very important to her to educate and empower the next generation as well.  
"My hope is that not only the work that I do, but the life I live can be seen as an example of living your best life on your own terms, being able to make mistakes and learn from them, but more importantly just being genuine in regards to wanting the best for my community as well as for all", Williams said.  
If you asked the average Grade 3 student to name their favourite musicians, you would likely expect to hear a myriad of popular artists.  This is not true of David Martin. The Buttonville P.S. student lists Vivaldi and Bach among his favourites (although he is also a big fan of Lil Nas X, especially his song Old Town Road).  It's the music of the f​irst two though that David plays on stage. 
David has been playing the violin since he was five years old. His family was living in Jamaica at the time. David's mother Jeneva encouraged his interest in the instrument, saying she "was always fascinated by the violin and wanted to play it (herself)."  She's also the first to admit that she wasn't the first person to see her son's natural ability, that person was his tutor, Steven Woodham.  
Woodham is a well-known violinist from Jamaica. When he saw the gift David had for the violin, he said to Jeneva, "David has something really, really special, that I have not seen in years in a child, and please, please, please, don't let him stop playing."  So, when the Martins moved to Canada, they found a new tutor, (Ryan Ip) for David, and his abilities have continued to grow building on his early teachings from Woodham.  
David was the youngest person in the Carribean to receive a distinction from the Associate Board of the Royal Schools of Music (ABRSM) in 2018, when he completed the Grade 2 music examination at the age of six.  He enjoys playing music and practices about 45 minutes each day. He has performed at the North York, Unionville and Newmarket Music Festivals and won his categories.  
While he enjoys using his own creativity to personalize pieces of music, David's favourite piece to play is Seitz's Concerto Note 5, Movement 3. His favourite audience? "My mom, my dad, my uncle and my cousins."  
The young violinist doesn't feel any jealousy from his classmates over his achievements, and he's happy to help them when they need it.  "I taught them music is not just about playing notes," David said. He added that musicians also have to count beats and play the song as it is outlined on their music sheet.  
David is not just a one-instrument musician. He also plays the piano, and has expressed interest in the drums, something that he is returning to, according to his mom.  "When he was two or three, we had a drum in the house and he was very noisy with it," she said.  She doesn't reject the idea though, saying "if it's something he wants to do, we usually try to encourage him."
David will be taking the Royal Conservatory of Music (RCM) Grade 5 theory exam in summer 2020 along with the Grade 6 level practicals at the North York and Unionville Music Competitions later this year.  
As important as music is to the Martins, Jeneva wants David to be able to enjoy other things as well; "I still want him to be a kid and do fun stuff," she explained.  
When he's not playing the violin or another instrument, David enjoys playing with his friends and cousins, video games and sports. He also enjoys school, especially math. When asked whether he prefers doing music homework or school homework, he said he enjoys school homework one per cent more.  
For anyone who wants to try something new, David has a piece of advice, "always try your best, even if you're not good at it yet."
Motivated by her lived experiences, Kamilah Clayton has spent the majority of her adult life advocating for what she believes in and working to create a more equitable world for everyone. "Most of my life has been dedicated to highlighting issues related to the Black community in the Greater Toronto Area," she explained. 
Despite her strong passion for equity and advocacy, Clayton didn't go into social work immediately after high school, instead opting for a more general psychology degree. "I actually didn't know what I wanted to do when I left high school, but my parents said 'you have to go to university,'" Clayton laughed. "Psychology is very general, so I thought that a lot of the classes would allow me to figure out what I wanted to do."  
She came to social work when a trusted mentor suggested it to her. Clayton's mentor was a social worker herself with a strong history of social justice work in both Nova Scotia and Ontario. "She was so inspirational. If she felt that I had the capacity to be a social worker, I wanted to honour that," Clayton said. Sadly, her mentor passed away just a few months before Clayton finished her undergraduate degree in social work. Undeterred, Clayton honoured her friend by continuing her schooling, graduating with a Masters Degree and becoming a practicing social worker. She has held a number of professional social work positions, including currently working with a child welfare agency in the Greater Toronto Area.
Clayton is striving to create a better world for the next generation, starting with her own children.  She recalled a story of taking her daughter to the grocery store, and her daughter wanted to bring a toy in with her. She immediately thought "somebody's going to assume she stole it, then we're going to end up in a room somewhere."  
Unfortunately, Clayton knows what it's like to have to be hyper-vigilant due to stereotypes.  She wants to change the experience for her children. "One of my biggest coping mechanisms is teaching my children how to be strong and confident people, so they don't have all of the issues I had", she said. "I want them to enjoy every stage of life."
Her work with youth doesn't stop with her own family. In addition to her professional work, Clayton also works with the Newmarket African Caribbean Canadian Association (NACCA), helping to educate and empower youth voices. She recently hosted a conference called Healing Our Wounds, Understanding Transgenerational Trauma in partnership with NACCA.  
Transgenerational trauma can even affect people today. Clayton explained that a Black youth may be more likely to be described as a 'behavioural child,' when they are really dealing with traumas that may date back several decades.  "You need compassion and empathy to try and work towards finding out what that (trauma) is," she explained. 
She also emphasizes the importance of telling all of Black history.  She explained that to help Black children understand and value their identity, it is important to explain the entirety of Black history, not just what happened after colonialism. Clayton quotes the famous Jamaican Poet Mutabaruka when speaking about the importance of celebrating Black excellence in history, saying; "slavery is not African history.  Slavery disrupted African history."  Black families learning about their true history has really allowed for "a resurgence of Black pride, of African pride," she added, "I think it's beautiful."
When Roxanne Francis first arrived in Canada 20 years ago, she didn't envision a career focused on social work and advocacy.  
She relocated to Canada to continue the studies in biochemistry that she had begun while still living in Jamaica. It wasn't until she moved to Canada that she decided to go into social work. "When I came here, it really turned on my social justice meter," she said.  Francis had become accustomed to the experience of stark differences in wealth in Jamaica, however, after travelling between Jamaica and Canada, she began to notice some harsh inequities for people in Canada, especially for people of colour. 
Francis knows firsthand the difficulties that many new Canadians face upon arriving in the country. "When I came to this country, for years I struggled to make ends meet," she explained.  "What people don't realize is that you might migrate from a smaller country to a rich country like Canada, but it isn't changing your life overnight. The statistics say it takes between six and seven years for a new immigrant to get to where they need to be."  
To provide for herself, Francis made the difficult decision to pause her studies to find work. She began working in an administrative role at SickKids Hospital. She looks back on this time fondly, speaking highly of her colleagues and supervisors, but she wanted more. Clearly, her coworkers thought highly of her as well, as when she attempted to hand in her resignation to return to school, her supervisor suggested she work part-time instead of leaving entirely. She applied for a part-time role in another department, got it and continued to work at SickKids throughout her schooling. She was even able to complete her internship at the hospital when she was in grad school. 
After leaving SickKids, Francis worked in various roles, including as a clinical social worker at Kinark Child and Family Services and as a Family Therapist at The Regional Municipality of Durham. She now works in private practice. 
She recounts an incident from one of her final days at her previous role. She was packing up her office and her two young sons were in her office with her. Her supervisor walked past and waved to the boys. Her eldest son asked her, "Mommy, is that the boss?"  "Yes, how did you know that?" she replied. "Because he's light-skinned," the boy responded.  
"I thought to myself, 'I have to do something about that'," Francis recalled. "At the time, he was seven years old. For a seven-year-old to think that only people who don't look like (him) can be the boss, that's problematic." 
Francis recalled another incident when she contacted her child's school and spoke with the principal after her son asked her, " Why can't I be White like everyone else?" She described the incident as "scary." She reminded her son about his family, friends and other people in the community, and he realized that not everyone was White.  
Speaking about Black History Month, she said "I think representation is important because it allows people to recognize that they matter, they're not invisible." She believes strides have been made in the equity field, even if there is still a long way to go. "Recently, there was a  Black History Month kickoff at my kids' school, and my youngest, who's now in Kindergarten, came home and said 'Mommy, am I part of Black history?' I told him 'yes' and the grin on his face just went from ear to ear to know he is part of something special."
Francis and her colleagues work hard to make their office a safe place for people of all walks of life. One of the many communities she tries hard to support is the 2SLGBTQ+ community. She has done extensive research on how to provide support to her clients in the 2SLGBTQ+ community, so she is always ready to answer their questions and provide guidance when she's asked to. Francis recognizes that in collaboration with her advocacy for racial inclusivity, "I also need to be an ally around gender inclusivity and the LGBTQ+ community."
Since social work can be tiring, Francis understands the importance of self-care. She enjoys being with her husband and children, hearing live music (especially jazz), as well as cooking and baking. Her faith is also important to her and she is very involved with her church, which she said she finds "very replenishing." She also knows the importance of taking a day off now and then. "It's not always about going to the spa, sometimes it's just sitting with my eyes closed listening to John Coltrane" she said.
Francis credits many of her accomplishments to those who supported her along the way.  "There's a very famous African proverb that says 'it takes a village to raise a child' and I'm struggling to find the lie in that statement," she noted. She explained it took a community to raise her, support her through school and get her to where she is professionally. 
Francis does the work she does because she needs to, not for the accolades. When asked how she felt to be identified as a person who was exemplifying Black excellence, she said; "I have a strong social justice meter and I advocate for the underdog. Unfortunately, a lot of times, the underdog can be someone in a dark brown body. If it's seen as excellence, let it be excellent, but I will continue to strive to do good work in this community because it's necessary."
"George, look how far we've come from 1982!" Paul Jones yelled to George Cope, the now-retired executive at Bell Canada, from the side of the court after game six of the NBA Finals at California's Oakland Arena. 
It wasn't the first time Jones and Cope had worked together in basketball; Jones coached Cope as a player at the University of Western Ontario, but an NBA championship was new to both of them. Cope was there representing Bell Canada; the company has an ownership stake in Maple Leaf Sports & Entertainment, the company that owns the Raptors. Jones was there doing what he's been doing for 35 years, talking basketball.
Jones, or "Jonesy" as his friends call him, has loved basketball all his life. 
Originally from Jamaica, Jones moved to Canada when he was only five months old. He describes his family's journey to Canada as one of "initiative." His father had visited Canada to see his sister, who was in law school at the University of Toronto, and he decided to stay, bringing his wife and young son up shortly after. Jones pointed out that it was ironic that his father passed on the top radio job in Jamaica to remain in Canada, where both Paul and his brother Mark would become broadcasters.
Broadcasting isn't the only thing that runs in Jones' family. 
"My grandfather was a teacher and a principal in Africa and in England," he explained. Jones would eventually follow in his grandfather's footsteps, obtaining a Masters in Sports Psychology and a teaching degree at York University and the University of Western Ontario. He continued to play basketball through his undergrad, playing on two all-star teams and being named a Finals MVP while at York. He also spent some time playing professionally in Europe.
While at Western, he got into coaching, spending one year with the women's team and two years with the men's team. It was his love of coaching that brought him to teaching. Jones started as an occasional teacher with Toronto District School Board in 1984 and joined York Region District School Board (YRDSB) as a Principal in 1999. 
He didn't put his love of basketball on hold due to a day job though. He joined TSN in 1985 on the advice of his brother Mark, who was also employed by the network at the time. Jones would watch games and write scripts for the commentators. He thought he had to step away when he was finally accepted to a long-term occasional teaching job, however TSN convinced him to stay on. There were times the two jobs would intersect, "I would bring my marking in (to the TSN office)," Jones explained. He remembers calling parents during halftime at Raptors' games.
Despite working both jobs, Jones remained committed to his schools and students. "What Paul doesn't tell you is his impact on new vice-principals at the time," said friend and former colleague Michael Cohen, currently a superintendent of education at YRDSB, "(his personality) just brought people together."
Cohen also noted that Jones shares stories with a purpose, something he brought into the classroom as well. He used basketball as a way of helping students connect what they were taught in school to the working world.
He recalls asking students "who thinks there are too many rules in school?" and seeing a flurry of hands go up. When he pressed about what kind of rules the students didn't like, he got responses of "well, if you're late you get a detention."  Jones responded with "well, that's good.  If you're late with (former Raptors Head Coach) Sam Mitchell, you get fined like $500 a minute."  When many students said they thought they should have access to their cell phones, he told them "when a phone goes off in a Raptor meeting, you're fined like $2,000 per ring."  "I'm trying to draw connections for them," Jones explained.
He remained with YRDSB until 2006, when he was offered a full-time broadcasting job. He recalls meeting the Director of Education at the time, Bill Hogarth, in an Aurora fast-food restaurant. Hogarth told him, "we're about opportunity. What do we tell kids?  Follow your dreams." He has now been solely focused on broadcasting for more than 10 years and can be heard on a variety of networks including TSN, Sportsnet and NBA Canada TV.  He's now a freelancer.  "Whoever's got the game or is connected with the game, that's who I work for," he said.
He admits that he misses teaching, especially working with kids, and the collaborative nature of the work. He has been able to transfer some of his teaching skills into his life in broadcasting, including the importance of being a team player and much of the leadership training he received as an administrator at YRDSB.
In his personal life, Jones enjoys playing golf, reading biographies and travelling.  He also stays busy keeping up with the academic and athletic pursuits of his children. His daughter is a four-time academic all-Canadian.
When asked if he thought the Raptors could do it again, he replied, "yeah. I definitely think they could."
Richard Walters describes himself as a passionate, upcoming artist who dabbles in acting, music and dance, however, he also considers himself a dreamer and hopes his fans feel the same way. "Beyonce has her beehives," Walters explains. "My followers are the dreamers."  
Walters was very youn​​g when he discovered his love of music and dance.  One day when he was a child, his daycare attendant put on Smooth Criminal by Michael Jackson.  "It got my attention as soon as I heard it, I wondered who this person was," Walters said. "I would say Michael Jackson is the main reason I started doing what I do."
Long before he was walking the red carpet at the Toronto International Film Festival (TIFF), Walters was refining his craft. He wrote his first song, called Speak, around the time he entered high school, speaking out against bullying. "To quote the song 'if you're looking for help but nobody hears you, you have to speak'," Walters explained.  
Walters began to see acting as a potential career after he was accepted to the drama program at Unionville High School. He credits teachers Aaron Bieman and Robert Cook for creating a safe environment to learn as a young actor.  
While most of his classmates were collecting their diplomas and looking to move on to post-secondary or the working world, Walters was preparing to go to a new high school, this one "a lot more dramatic" than Unionville H.S.. He joined the cast of Degrassi, a show that has spawned stars such as Drake. Walters' success speaks to his perseverance; it was on his seventh audition that he landed the role of Tiny Bell. He had acted before first appearing on The Family Channel's The Next Step as a dancer. However, Degrassi he said was his biggest project to date. 
He has worked on many projects since then and has been nominated for numerous awards.  One of the highlights of his career was attending TIFF when one of the films he appeared in, American Woman, was screened at the festival. He was able to walk the red carpet, meet fans and have his mother attend the film screening.  
Walters didn't take a lot of time to savour his accomplishments. He was quickly back to work with his best friend and business partner Calyx Passailaigue, another Unionville H.S. grad.  They are striving to have a film of their own show at TIFF in the future. "That's always been the goal," Walters explained.  
Even with so much of his time tied up in acting, Walters makes time to engage in his other passions. He released another single, Vibing, in mid-2019. Vibing was heavily influenced by the way art helps connect people, Walters explained. "It's one of the best ways to communicate with another person without even speaking," he said. The video conveys the message that you don't have to be the best to enjoy something. Everyone is having a good time dancing in the video, despite their varying levels of skill, Walters said. The music video is available on Walters' YouTube channel Morpheus Richards, a name that reckons back to Walters' "dreamer" mentality, as Morpheus is the Greek God of dreams.  
In the future, Walters and Passailaigue are going to continue working on a film that Passailaigue wrote. They also plan to work with some fashion designers Walters met at TIFF on some collaborative projects. These projects will include a couple of Walters' and Passailaigue's friends and fellow Unionville H.S. grads, Andon Campbell and Tre Michael Bullen, a group Walters calls "The Collective."  "There's a lot of great, exciting stuff coming out in the new year," he said.  
Milton Hart is a man who is driven by his core values, values that include equity, perseverance and lifelong learning. A former military officer in both Jamaica and Canada, Hart's work ethic took him to the Olympics, won him multiple awards in track and lead to a successful teaching career with York Region District School Board (YRDSB).  
While such success could be driven by a desire for personal glory, this is not true of Hart. "I'm a true believer in the idea that I wouldn't be here had it not been for some people who took an interest in me when I was small and making my mistakes," Hart said. "I think my job now is to ensure the younger generation is set up for success." This belief is reflected in his teaching, coaching and commitment to championing equity. Long before he was working in schools, Hart was an Infantry Soldier in the Jamaican Military.  He served with the Jamaican Armed Forces between 1984 and 1992. It was his time in the Jamaican Military that led him to both the Olympics and to Canada.  
The Jamaican Bobsled team practiced on military property. Once Hart learned more about the sport and their need for strong sprinters, he joined the team. He went on to compete with the team in the 1992 Winter Olympics in Albertville, France.  
Around this time, Hart also applied to become a permanent resident of Canada.  He chose Canada because of his experience working closely with the Canadian Bobsled Team. He was also interested in  York University. "If I ever decide to further my education, I think this would be the school," he remembers thinking at the time. He said he was especially impressed by their track facilities.  
Moving to Canada didn't mean he was finished with military service. Once he arrived in Canada, he became a Commissioned Officer and received a letter from Queen Elizabeth II, a memory that he still looks back upon fondly.  He said the letter read "You, Milton Hart, are allowed to lead my troops and they have a responsibility to follow you." Hart described his military experience as "amazing." "I am a protector of the state. That got me up mornings, helped me to stay up late at night," he explained.  
A lifelong learner, Hart spent two years as President of the St. George's College Alumni Association, the school he attended in Jamaica. Through his alumni work, he assisted with initiatives to help financially support the school and provide scholarships for graduates.  
Hart joined YRDSB as a teacher in 2008.  He now also teaches adults as an English professor at Seneca College. While he spends a lot of his time teaching, Hart is also a big advocate for learning from others.  He explained that everyone can learn from the experiences of other people. "Equity is all about fairness. Equity is championing differences, celebrating them, not seeing differences as impediments, but as fantastic ways of everybody learning," he stated.
Despite the time he has spent moving around, Hart isn't planning on going anywhere anytime soon. He is still teaching in YRDSB, and he's still running.    "I heard the other day that I broke the 50-metre Canadian record, which is just fantastic," he said. He also has the Ontario and Quebec championships coming up on the Master's Circuit. 
Even with so much going on, Hart remains focused on his main task of being an educator.  "I'm blessed by virtue of the fact that I have seen so many things," he said. "Now with all that blessing, all that experience with everything I've learned, I think it would be prudent of me to pass that back onto kids".  
Technology can seem impersonal at times. Ashley Jane Lewis, a New Media graduate from Toronto's Ryerson University is working to change that. "Code drives the way that we are able to access community, through social media, code drives the algorithms that determine what my insurance package looks like, code drives the algorithms that determine where I am first offered opportunities to live, code drives the systems that categorize my identity in government files" she explained, when talking about why it is important to develop technology with a human lens.  "I think for a long time, perhaps ever, the existence of technology has not centered humans and therefore has created a lot of unempathetic, inaccurate and biased systems… If that's going to change at all, we have to change the origin point of how we produce technology and make it more human centred." This is something she would include when she taught code later on.
Lewis didn't enter the New Media program with a goal of changing how machines think, in fact, she almost went into post-secondary for clarinet, an instrument she played in her high school concert band. An artist from a very young age, the program ended up blending a couple of her interests together; "I was really interested in the hybridity of technology and art, and it's capacity to reach more people than the audience who are standing in front of your piece," she said. Lewis admits she didn't know she would be coding when she entered the program. She recalls wondering "what have I gotten myself into?" on her first day of school when she learned her program involved coding and math, a subject she didn't enjoy in high school. 
The way Lewis learned to code greatly impacted the way she would teach it later on, although it was not through emulation. "(When) I found myself in a position to start teaching code, it was really through social activity and game-oriented learning that I structured my workshops… I think that if we're not centreing social encounter, arts and human connection while teaching the next generation of coders, we're not doing ourselves much of a service in the future," she continued.  
Technology and art are two things that are close to Lewis' heart, however, her passion for creativity has also driven other interests. Woodworking and baking are two other hobbies she enjoys. Keeping with her strong work ethic, Lewis enrolled in night classes at George Brown College in the Baking Arts program to work with other people who shared her interest. "(I) accidentally ended up with a Diploma in Baking Arts," she laughed.  
Despite having found a wide degree of success in her chosen field, working for a variety of organizations from Toronto International Film Festival to Ryerson University to Mozilla, Lewis chose to continue her education, attending New York University's Graduate Interactive Telecommunications Program, a program she is on track to complete in May 2020. It hasn't just been in the classroom that Lewis has been learning, as she stated "(Brooklyn) is the first predominantly Black neighbourhood I've ever lived in… I feel like I'm living a version of life that could have been if I had been in an environment that was more reflective of the person I am. You don't walk around with as much fear or as much self-conscious behaviour.  "You don't have to think about how you're being perceived." Lewis explained the uneasiness of previously living in predominantly White neighbourhoods by saying that Black people have to prioritize their safety by finding ways to be overtly non-threatening, because of stereotypes of presumed aggression.
As her graduate program wraps up, Lewis said she is "not worried" about what is going to happen after. She doesn't have a future job title in mind, however, she does know how she wants to feel; "I would like to have opportunities to give back to people who look like me, in gender and race," she explained. "I want to have opportunities that allow me to speak critically about technology and point out a lot of the plot holes as to the things that are being put into action right now," she added. ""I really enjoy having those conversations in a meaningful way, but also at a level that could create positive change." She also wants to ensure her future includes art. "I don't want to give away too much," she said, "but there are lots of soft offers on the table that suffice all three of those things."
CNN called her "Canada's Rosa Parks".  But long before Viola Desmond became the first Canadian woman and Black Canadian to grace the country's currency, she was standing up for what she believed in.  
Born Viola Irene Davis, Desmond was one of 11 children. Her father, James Albert, worked unloading cargo ships before he established himself as a barber.  He  was raised in a middle-class Black family, while her mother Gwendolin Irene was a White American originally from Connecticut.
Desmond wanted to train to be a beautician, however, she quickly learned beauty schools in Nova Scotia didn't accept Black students.  Undeterred, she opted to train in Montreal, Quebec and in the United States.  Seeing an opportunity, Desmond opened her own beauty school and taught Black Nova Scotians the trade. She also opened her own salon and created products specifically tailored to the Black community.  
Desmond was on her way to a business meeting in Sydney, Nova Scotia on November 8, 1946 when she experienced car trouble. She was advised it could take a few hours to fix her vehicle, so she decided to go and see a movie at the local Roseland Theatre in New Glasgow to pass the time. The theatre was two-tiered, with a balcony and a main floor.  Desmond asked for a ticket for the main floor. Unbenounced to her, she was issued a ticket for the balcony. She made her way out to the main floor, only to be told her ticket was not the correct one for that seat.  Believing an honest mistake had been made, Desmond returned to the ticket booth, only to be told she had been issued a ticket for the balcony because that was the only area that was available to Black patrons. Desmond offered to pay the difference to be able to sit on the main floor, however, she was refused. In an act of defiance to these unfair rules, Desmond returned to the main floor. She was then asked to leave.  She refused. The police were called, and eventually Desmond was arrested.  
Desmond was charged with tax evasion over a one-cent "amusement tax."  The difference in tax between a balcony seat and a floor seat. She was tried and convicted, being fined 26 dollars.  She was not made aware of her right to legal council, nor did she have any present.  
Her husband Jack, a Black man familiar with the New Glasgow area, suggested Desmond not pursue the matter.  She did anyway, and hired Lawyer Frederick Brissett.  While he was unsuccessful at the time, he took the step of not billing Desmond, instead allowing the Nova Scotia Association for the Advancement of Coloured People, who were funding Desmond's case, to continue fighting for equality.  
Unfortunately, the ordeal had a lasting effect on Desmond. She got divorced, closed her business and moved to Montreal, then New York City seeking a new start. She passed away in 1965.  
Her fight was not in vain. In 1954, segregation laws in Nova Scotia were abolished.  Desmond was granted a posthumous pardon and issued an apology in 2010.  Her sister Wanda Robson released the book Sister to Courage in the same year. 
YRDSB also named a school in her honour in Maple in 2019.  "VDPS students, staff, families and community are proud to have our school named after such an important Canadian Civil Rights Activist who actively challenged racial discrimination," said Principal Heather Schreider.
Wor​ks Cited:
Criss, Doug. "She was Canada's Rosa Parks.  Now she's the first person Black person to appear on its currency."  Cable News Network.  WarnerMedia/AT&T.  13 Mar. 2018. N.v. 11 May 2020. 
Bingham, Russell and Eli Yarhi.  "Viola Desmond".  Britannica.  Encyclopaedia Britannica, Inc.  3 Apr. 2020.  V.7. 11 May. 2020. 
Bingham, Russell and Eli Yarhi.  "Viola Desmond." The Canadian Encyclopedia.  Historica Canada.  3 May 2019.  N.v. 11 May 2020. 
"One woman's resistance".  Canadian Museum for Human Rights.  Canadian Museum for Human Rights.  N.d. n.v. 11 May 2020. 
Nyarko, Mandy.  "Canada 5/150: Viola Desmond".  The Canadian Race Relations Foundation.  The Canadian Race Relations Foundation.  N.d. n.v. 11 May 2020.  
CBC News.  "How civil rights icon Viola Desmond helped change course of Canadian history".  Canadian Broadcasting Corporation.  Canadian Broadcasting Corporation.  8 Dec. 2016 n.v. 11 May 2020.  
Sister to courage: stories from the world of Viola Desmond, Canada's Rosa Parks/Wanda Robson with Ronald Caplan.  Cumberland Public Libraries. Cumberland Public Libraries.  N.d. n.v. 11 May. 2020.

Burnett, Amanda.  "York Region District School Board names new school in recognition of Viola Desmond". York Region District School Board.  York Region District School Board.  12 June 2019. N.v. 13 May. 2020.
Herbert (Herb) H. Carnegie broke barriers and inspired others throughout his life - both on the ice and off.
Carnegie came into the world on November 8, 1919, and it didn't take him long to indulge himself in one of his country's national pastimes. "I'd loved the game since I was seven and a half," he told The Globe and Mail in 2006. He was good at it, too, and aspired to don the blue and white of the Toronto Maple Leafs. 
Carnegie had an opportunity to try out for the National Hockey League's New York Rangers, but turned it down due to lack of adequate compensation. "In revisiting this experience with my father," said his daughter Bernice, "he was clearly disappointed with their offer to the minors and the pay cut, especially since he had been just voted Most Valuable Player on his team and would go on to receive this distinction for two more consecutive years.  In the end it should be noted that players with lesser records advanced into the NHL." It would be several more years before Willie O'Ree would break the colour barrier in the NHL.  
Carnegie chased his dream in the Quebec Professional Hockey League (QPHL).  He played for teams in Shawinigan, Sherbrooke and Quebec City.  His stats remained among the league's elite, posting over a point-per-game (PPG) in his first seven seasons in the league.  In his best season, he posted 127 points in just 56 games, a PPG of almost 2.27.
He also became a member of one of the most prolific lines in hockey, known as the "Black Aces," many years before other famous lines such as Philadelphia's "Legion of Doom" or Buffalo's "French Connection" took to the ice.  He centred his older brother Ossie and Manny McIntyre on the famous line. Carnegie played one season outside the QPHL at the end of his career, with Owen Sound of the Ontario Hockey Association Senior A League (OHASr).  He brought his scoring touch with him, collecting 55 points in 54 games.  He called it a career in 1954 after a single season in Owen Sound.  
One year later, he formed the Future Aces Hockey School (the first registered hockey school in Canada) in 1955. 
Even after he retired from the sport he loved, Carnegie continued to break barriers in other facets of his life.  He became the first Black financial advisor in the history of Investor's Group when he joined the company in 1964, and he remained with the company until 1996. He never truly left sports behind either, becoming a very skilled golfer, winning multiple championships and tours between 1963 and 1982.  Bernice noted that her father had "the Midas touch" with his list of accomplishments and said, "I have a strong sense of pride in knowing that he used his energy and creativity to promote confidence and self-esteem that encouraged good will and unity among all people".  
Carnegie, his wife Audrey, and Bernice formed the Herbert H. Carnegie Future Aces Foundation in 1987, a charitable organization that is "on a mission to inspire every individual to be a better citizen." For more than 30 years, the foundation has made a difference in the lives of young people through scholarships, leadership conferences, in-school programs and more. 
In 1996, Carnegie was named to the Order of Ontario.  He followed this up with an induction into the Canadian Sports Hall of Fame in 2001 and being named to the Order of Canada in 2003.  He released his autobiography in 1997, titled A Fly In A Pail of Milk: The Herb Carnegie Story. He was also a guest in two issues of The Amazing Spider-Man, titled Skating On Thin Ice and Double Trouble.
Sadly, Carnegie passed away in 2012 at the age of 92.  He is survived by his four children, three daughters and a son.  York Region District School Board also named a school in his honour in Maple, Ontario. 
Herbert H. Carnegie P.S. celebrated the 100th birthday of its namesake in November 2019. Carnegie's autobiography was re-released last year with new information written by Bernice.  "It is clear that the legacy of Mr. Carnegie lives on in the hearts and minds of staff and students," said Principal Shawna Gates.  
"With all of the accolades that came his way during his lifetime, he remained quietly humble, exuding an unstoppable desire to engage in projects that would make our world a better place", noted Bernice.  "But everything starts from home and as a husband and father, he was kind, fair, loving and totally invested in his family".  She believes her father's greatest legacy is the Future Aces Philosophy and its impact in promoting character in education.  
Works Cited:
"Herbert "Herb" Carnegie". Ontario Heritage Trust. Ontario Heritage Trust. N.d. n.v. 24 Apr. 2020. 
"Herb Carnegie". Myseum of Toronto. Myseum. N.d. n.v. 5 May 2020. 
Douglas, William. "Carnegie could have been first Black NHL player, letter shows". National Hockey League. National Hockey League. 15 July 2019. N.v. 24 Apr. 2020. 
"Quebec Professional Hockey League". Quebec Professional Hockey League.  Quebec Professional Hockey League.  N.d. N.v. 24 Apr. 2020.  
"Herb Carnegie". HockeyDB. HockeyDB.  N.d. N.v. 24 Apr. 2020. 
"Ontario Hockey Association Senior A history and statistics". HockeyDB. HockeyDB. N.d. N.v. 24 Apr. 2020. 
Smith, Thomas Toliver.  "Herb Carnegie". The Canadian Encyclopedia.  Historica Canada.  28. Jan. 2015. (Edited 4 Mar. 2015). N.v. 24 Apr. 2020. 
"Herbert H. Carnegie Future Aces Foundation".  Herbert H. Carnegie Future Aces Foundation.  Herbert H. Carnegie Future Aces Foundation. N.d. N.v. 24 Apr. 2020.  
"Dr. Herbert H. Carnegie." Herbert H. Carnegie Future Aces Foundation.  Herbert H. Carnegie Future Aces Foundation.  N.d. N.v. 24 Apr. 2020. 
"The Amazing Spider-Man: Skating on Thin Ice #1". Grand Comics Database. Grand Comics Database. 9 Jan. 2014. V.9. 27 Apr. 2020. 
"The Amazing Spider-Man: Double Trouble #2". Grand Comics Database. Grand Comics Database.  9 Jan. 2014. V.5. 27 Apr. 2020.
"A fly in a pail of milk: the Herb Carnegie story". Toronto Public Library.  Toronto Public Library.  N.d. n.v. 27 Apr. 2020. 
"Herbert H. Carnegie P.S." York Region District School Board. York Region District School Board.  N.d. n.v. 27 Apr. 2020. 
Oliver, Greg. "Herb Carnegie's story still relevant today".  Society for International Hockey Research. Society for International Hockey Research.  7 Nov. 2019.  N.v. Accessed 7 May 2020.  
Mason, Kwame Damon, director.  Soul On Ice: Past, Present and Future. Filmbuff. 2016.​
Long before he was the namesake for Lincoln Alexander P.S. in Markham, Lincoln Alexander was breaking barriers for Canadians across the country.  
A first generation Canadian, Alexander was born in Toronto in 1922. His mother was from Jamaica and his father (also named Lincoln Alexander) was from St. Vincent. He served in the Royal Canadian Airforce in World War II between 1942-1945 before returning to Canada when the war was over. He married Yvonne in 1948 and their son Keith was born one year later.
Alexander graduated from McMaster University with a Bachelor of Arts Degree in 1949.  Following this, he graduated from Osgoode Hall Law School and was called to the Bar in 1953.  
He began his political career in 1965, running as a member of the Conservative Party.  He was narrowly defeated in his first campaign for office, however, he remained undeterred and was elected to his first term in 1968, at which time he became Canada's first Black member of parliament (MP).  
Alexander was re-elected multiple times, holding a seat until 1980.  He continued to blaze new trails while in office, becoming Canada's first Black cabinet minister in 1979, handling the Labour portfolio for Prime Minister Joe Clark until 1980.  He resigned his seat in 1980 when Ontario Premier Bill Davis appointed him Chair of the Ontario Workers' Compensation Board, a title Alexander held for the next five years.  
He wasn't done with politics though. Alexander became the first Black Lieutenant-Governor of Ontario in 1985. He was appointed to the position at the recommendation of Prime Minister Brian Mulroney. He held this position until 1991, when he was named Chancellor at the University of Guelph.  He remained chancellor at the university until 2007.  
In 1992, he was named an officer of the Order of Ontario and a Companion to the Order of Canada.  
Five years later, in 1997, Alexander became the Chair of the Canadian Race Relations Foundation.  
In 2006, he released his memoir; Go To School, You're A Little Black Boy. 
Sadly, Alexander passed away in 2012.  He was survived by his second wife, Marni, (his first wife Yvonne passed away in 1999 and Alexander married Marni in 2011), his son Keith and his grandchildren.  At his funeral, Toronto Argonauts alumni Michael "Pinball" Clemons referred to him as "leadership personified." 
Alexander was granted honourary degrees by six post-secondary institutions, including York University in 1990 and Queen's University in 1992.  He also earned several awards, including Queen Elizabeth II's Diamond Jubilee Medal in 2012.  
Works Cited:
Lincoln Alexander Public School. York Region District School Board.  York Region District School Board.  2020.  
Lincoln M. Alexander. Black in Canada (via Wordpress).  Black in Canada (via Wordpress). 22 Oct. 2012.
Lincoln MacCauley Alexander. Hamilton Public Library. Hamilton Public Library.  N.d. 
CBC News, with files from The Canadian Press. Lincoln Alexander remembered as 'what is best in humanity' at funeral. Canadian Broadcasting Corporation.  Canadian Broadcasting Corporation.  26 Oct. 2012.  
Brown, Wayne.  The Honourable Lincoln M. Alexander: The First Black Canadian Elected to the House of Commons.  Elections Canada. Elections Canada.  Oct. 2002.  
University Mourns Passing of Lincoln Alexander. University of Guelph.  University of Guelph.  20. Oct. 2012.  
The Lincoln Alexander Award. Law Society of Ontario.  Law Society of Ontario. 2020. 
The Canadian Race Relations Foundation commemorates Lincoln Alexander Day and his impact on race relations in Canada. Canadian Race Relations Foundation.  Canadian Race Relations Foundation.  21 Jan. 2019.  
"Go to school, you're a little black boy": the Honourable Lincoln M. Alexander: a memoir. Toronto Public Library.  Toronto Public Library. 2020.  
"MLA Formatting and Style Guide". Purdue OWL.  Purdue University.  2020. 
Long before Oscar Peterson was the namesake for a YRDSB school in Stouffville, he was delighting audiences with his inspired piano playing.
He was born in 1925 in Montreal to parents from St. Kitts and the British Virgin Islands, and was the fourth of five children.  His mother was a domestic worker and his father was a boatswain who became a porter for the Canadian Pacific Railway.  Music was very important in the Peterson family, with each child being required to learn the piano and a brass instrument.  Each child taught the next youngest child.  
Peterson was a musical prodigy.  He won the Canadian Broadcasting Corporation's National Music competition at the age of 14 in 1940.  By 1945, he had recorded his first album, titled I Got Rhythm.  He was recording with artists such as Ella Fitzgerald and Louis Armstrong by 1956.  He appeared on over 200 albums in his career.  His music is still listened to today with over 1.1 million plays monthly on Spotify.  
According to IMDb Peterson won eight Grammy Awards in his lifetime, including a lifetime achievement award in 1997. He was also awarded the Officer of the Order of Canada in 1972, and was promoted to Companion to the Order of Canada in 1984.  
While Peterson is more well known for his musical talents, he also operated the Advanced School of Contemporary Music in Toronto between 1960 and 1962 before his touring commitments forced its closure.  Peterson held 12 honourary degrees throughout his life and was the chancellor at York University from 1991 to 1994.  In 2010, York University launched Oscar Peterson Scholarships in his honour.  The scholarships offered $40,000 as an entrance scholarship and up to four $10,000 scholarships for undergraduate music students.  
In 1993, he suffered a stroke, which hampered his ability to play the piano.  Undeterred, he continued to play shows until 2006. In 2002, he released his autobiography A Jazz Odyssey: The Life of Oscar Peterson.   In 2005, he became the first living person to be commemorated on a postage stamp other than a reigning monarch.  
Sadly, Peterson passed away in 2007.  His music and legacy live on.  
Works Cited
"Oscar Peterson P.S.". York Region District School Board. N.v. n.d. http://www.yrdsb.ca/Schools/Pages/School-Profile.aspx?SchoolID=465. 11 June 2020.
"Oscar Peterson". N.v. n.d. Canadian Music Hall of Fame. https://canadianmusichalloffame.ca/inductee/oscar-peterson/.  11 June 2020. 
"Oscar Peterson Trio". N.v. N.d. Spotify. https://open.spotify.com/artist/0ldU0QJm31y0d6f57R1G2A. 11 June 2020.
"Oscar Peterson Biography". N.v. N.d. International Movie Database.  https://www.imdb.com/name/nm0677328/bio. 11 June 2020. 
"Peterson, Oscar". N.v. N.d. Encyclopedia.com. 28 Apr. 2020. https://www.encyclopedia.com/people/literature-and-arts/music-popular-and-jazz-biographies/oscar-peterson. 11 June 2020.
"York University launches Oscar Peterson Scholarships".  N.v. 8 Mar. 2010.  York University School of the Arts, Media, Performance & Design. https://ampd.yorku.ca/news/york-university-launches-oscar-peterson-scholarships/. 11 June 2020. 
The Editors of the Encyclopedia Britannica.  "Oscar Peterson". V.14. 19 Dec. 2019.  https://www.britannica.com/biography/Oscar-Peterson.  11 June 2020. 
"A jazz odyssey : the life of Oscar Peterson".  N.d. n.v. https://www.torontopubliclibrary.ca/detail.jsp?R=263340. 11 June 2020. 
Nygaard King, Betty and Andrew McIntosh.  "Oscar Peterson".  N.v. 3 Sept. 2013 The Canadian Encyclopedia. https://www.thecanadianencyclopedia.ca/en/article/oscar-peterson#:~:text=Oscar%20Emmanuel%20Peterson%2C%20CC%2C%20CQ,2007%20in%20Mississauga%2C%20ON).&text=Also%20a%20noted%20jazz%20educator,including%20one%20for%20lifetime%20achievement.  11 June 2020. 
The Right Honourable Michaëlle Jean is never one to back away from a challenge.  This perseverance served her well. Jean became the first Black person to be named Governor General of Canada when she was appointed in 2005.  She followed this up by becoming the first woman to serve as the secretary-general of the Organisation Internationale de la Francophonie.   
She was born on September 6, 1957 in Port-au-Prince, Haiti.  Her father, Roger, was a principal and teacher at a well-respected Protestant preparatory school, however Jean was home-schooled so she didn't have to swear allegiance to former leader François Duvalier.  The family fled to Canada in the late 1960s, and settled in Thetford Mines, Quebec.  
She pursued a Bachelor of Arts at the Université de Montréal, followed up by a Masters in Comparative Literature and further studies at the University of Perugia, the University of Florence and the Catholic University of Milan. She is fluent in English, French, Haitian Creole, Italian and Spanish.  She can also read Portugese. 
Jean held various roles in journalism between 1988 and 2005.  She worked for the Canadian Broadcasting Corporation (CBC), appearing on Radio-Canada in French and CBC Newsworld in English.  
Jean was named the governor general of Canada in 2005, and held the role between September 27, 2005 and September 30, 2010.  In her farewell message in 2010, she said, in part: "You are not born the governor general and commander-in-chief of Canada, you answer the call of destiny with a desire to serve your fellow Canadians and invest years of your life and all your energy to become these.  With all of you by my side, all of you who have inspired me, I was able to embark on this adventure with the greatest hope and all the conviction I needed.  Thank you." 
In December 2010, she was named UNESCO's special envoy to Haiti.  She held the title of chancellor at the University of Ottawa between 2012 and 2015 and was the head of the Organisation International de la Francophonie between 2015 and 2019.  
Jean is married to Jean-Daniel Lafond.  Together, they have a daughter named Marie-Eden.  Their family also includes Lafond's two daughters from a previous marriage and his grandchildren.  
YRDSB has a school named in her honour in Richmond Hill.  
Works Cited:
The Editors of Encyclopaedia Britannica.  "Michaëlle Jean". V.8. Encyclopedia Britannica, Inc. 7 May 2020.  https://www.britannica.com/biography/Michaelle-Jean.15 June 2020.  
"Home | International organization de la francophone." n.d n.v. https://www.francophonie.org/. 15 June 2020. 
Azzi, Stephen.  "Michaëlle Jean".  N.v. The Canadian Encyclopedia. 22 Jan. 2019. https://www.thecanadianencyclopedia.ca/en/article/michaelle-jean.  11 June 2020.
"Biography of Her Excellency the Right Honourable Michaëlle Jean, Governor General of Canada". N.v. Governor General of Canada. 26 Mar. 2018.  https://archive.gg.ca/media/fs-fd/G2_e.asp. 11 June 2020.
"Michaëlle Jean Biography".  N.v.  Michaëlle Jean. N.d. https://www.michaellejean.ca/detailed-biography. 11 June 2020.  
"Michaëlle Jean - Former Chancellor". N.v. University of Ottawa. N.d. uottawa.ca/administration-and-governance/michaelle-jean. 11 June 2020. 
"Michaëlle Jean". N.v. Governor General of Canada. N.d. https://www.gg.ca/en/governor-general/former-governors-general/michaelle-jean. 11 June 2020.
"Governor General's farewell message." n.v. Governor General of Canada. 30 Sept. 2010. https://www.gg.ca/en/governor-generals-farewell-message. 11 June 2020.
"Michaëlle Jean P.S." n.v. York Region District School Board. N.d. http://www.yrdsb.ca/Schools/Pages/School-Profile.aspx?SchoolID=244. 11 June 2020. 
Celebrating Black Excellence Social Cards - Click to View!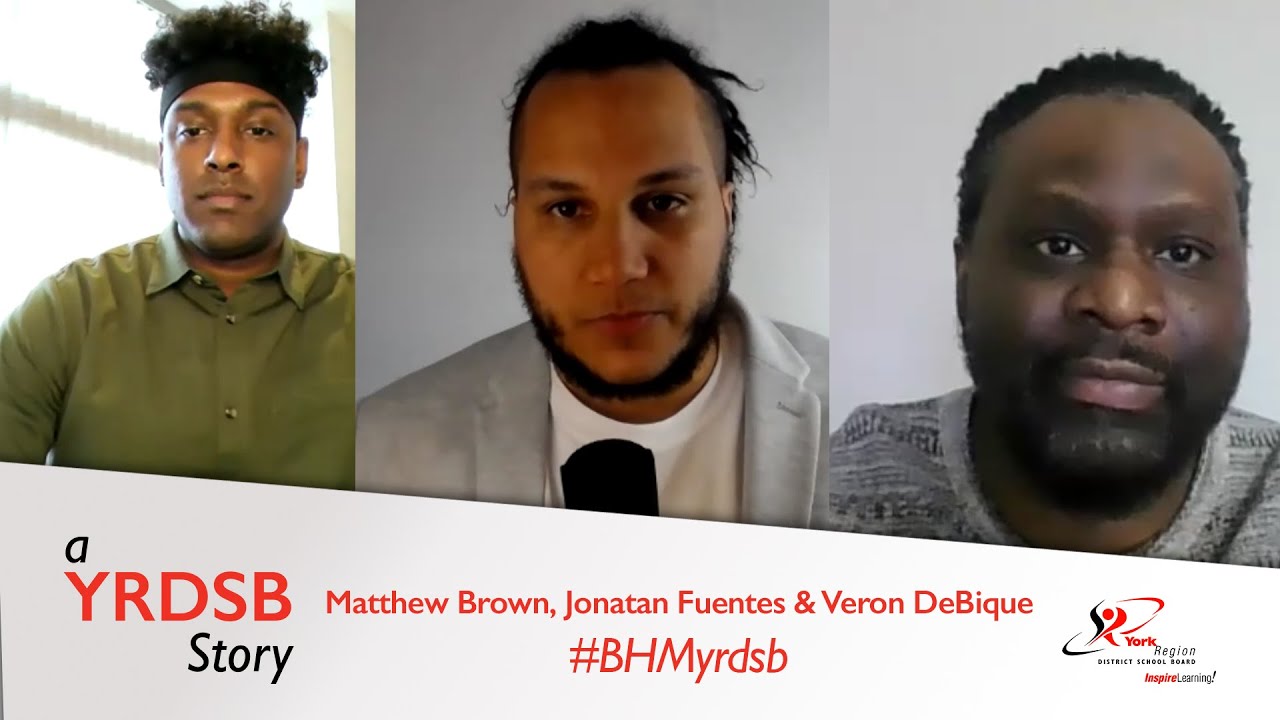 A YRDSB Story: Matthew Brown, Jonatan Fuentes & Veron DeBique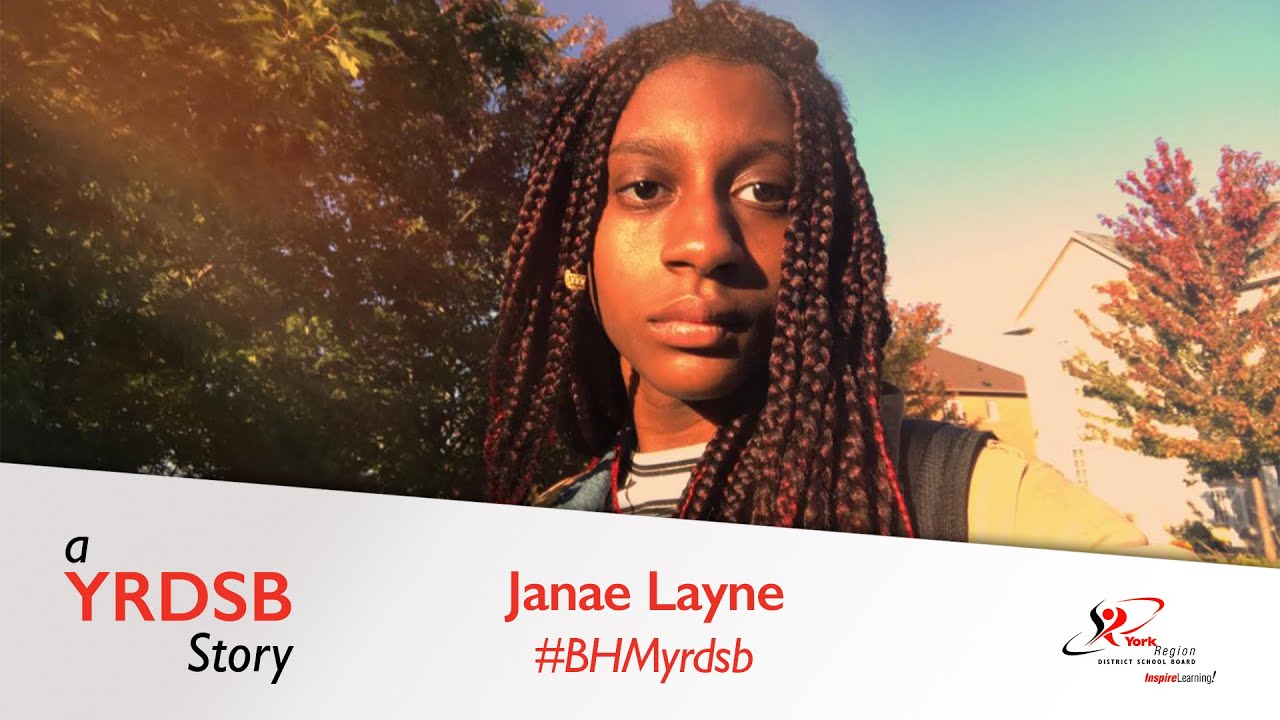 A YRDSB Story: Janae Layne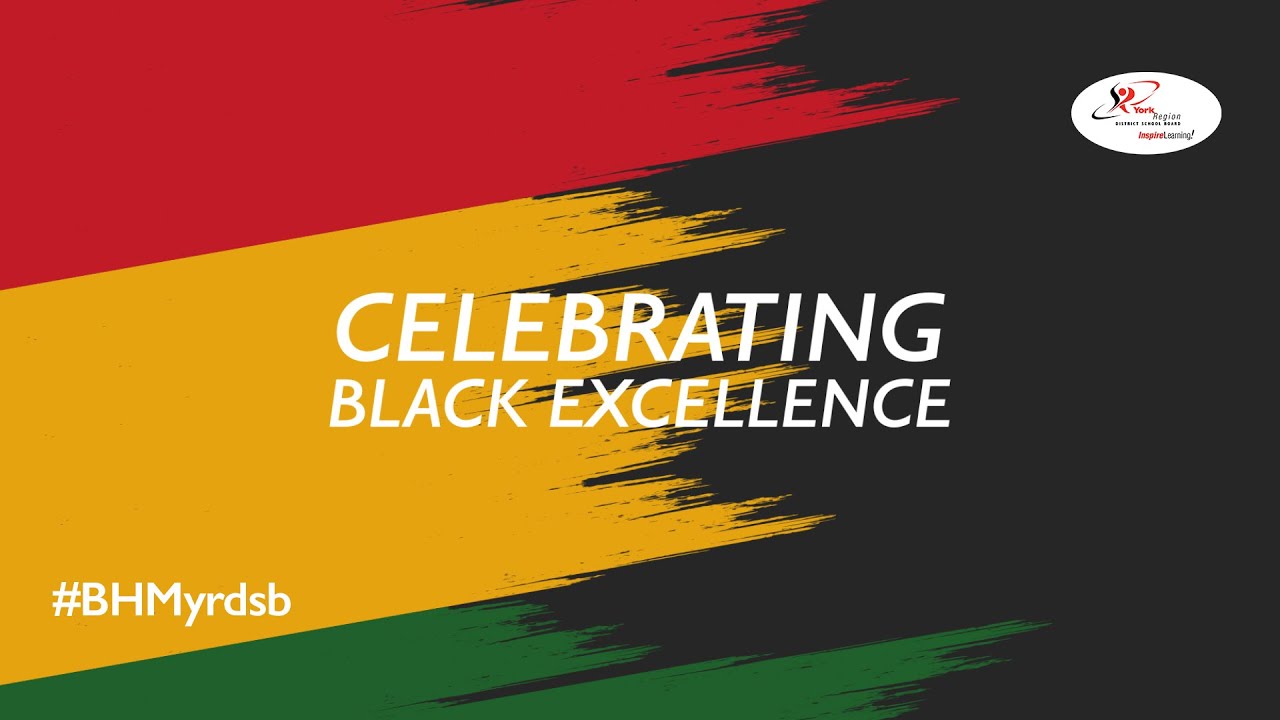 Celebrating Black Excellence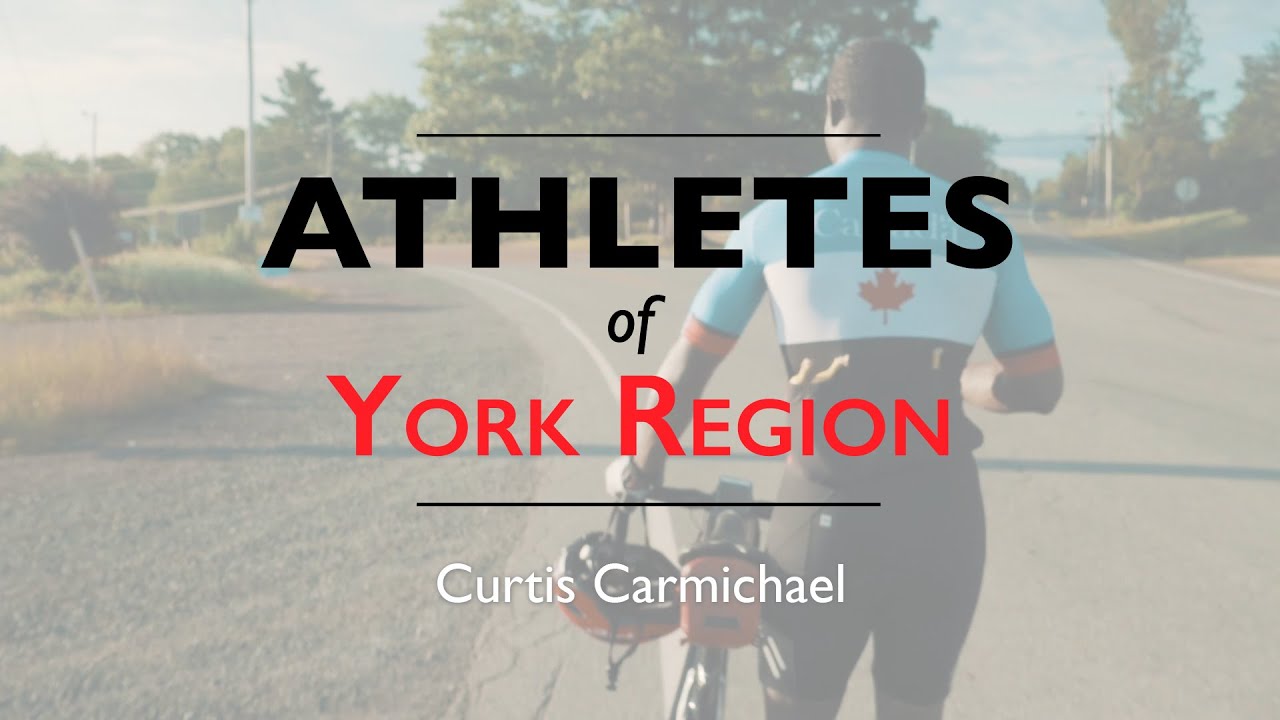 Athletes of York Region: Curtis Carmichael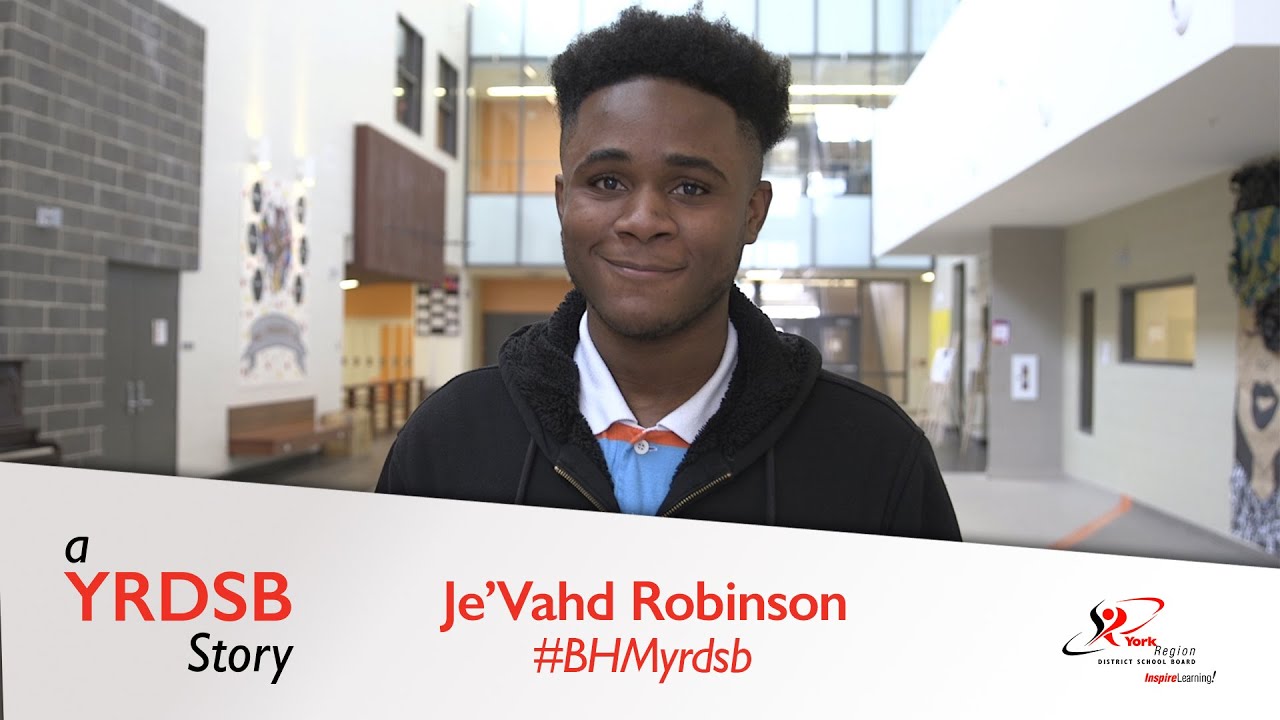 A YRDSB Story: Je'Vahd Robinson