A newsletter to support those in York Region who work with students with exceptional learning strengths & needs.
Content of this Newsletter
---
Braille Literacy Month
Yes I Can Awards
Mental Health Family Resources
Mindomo
Spotlighting Excellence, Achievement & Community
Ignite Technology Grant School Recipients  
Learning Disabilities Association of York Region

March Break Social Skills Camp
SOAR Transitions Secondary
Transition Planning Support
---
Braille Literacy Month
During the month of January, students at MacLeod's Landing Public School celebrated Braille Literacy Awareness Month and recognized the birthday of Louis Braille on January 4th. Throughout the month, student led announcements were made to spread awareness about braille. Additionally, a school wide braille trivia contest was available to all students and staff. Each week a new braille trivia question was announced. In order to enter the contest, participants solved the trivia question by decoding the answer in braille. Individual classes visited the large bulletin board displayed in front of the library to learn all about braille literacy. What a fun month spreading awareness!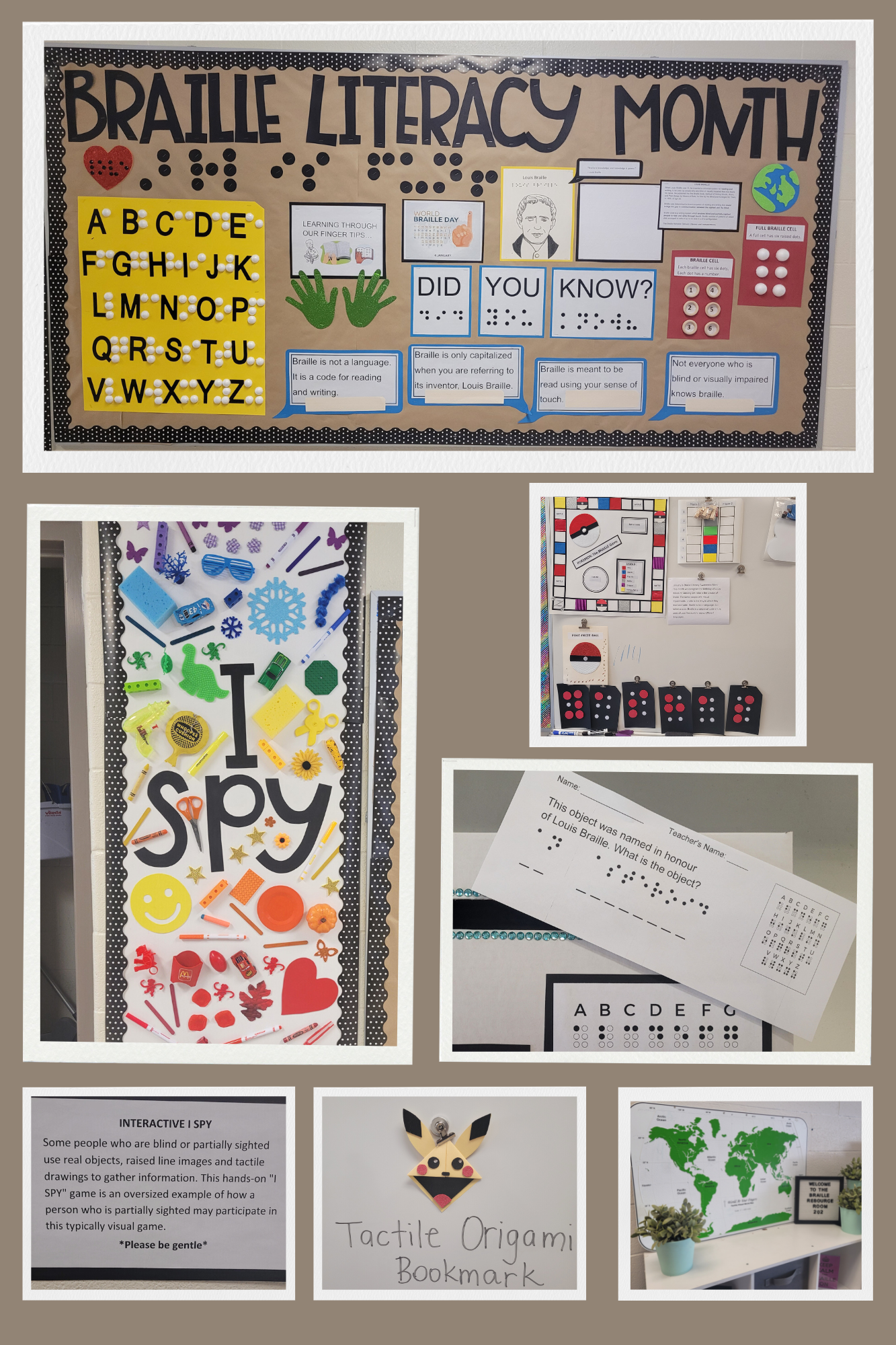 Council for Exceptional Children (CEC) - Yes I Can Awards 
The 2022 Yes I Can Awards are now open for nominations! The Yes I Can Awards honour children and youth with exceptionalities who shine. CEC has recognized the accomplishments of thousands of students since the program started in 1982.
In York Region, a joint CEC Awards Ceremony is held each spring with the York Region District School Board, York Region Catholic District School Board and the Ontario Council for Exceptional Children. Together, we celebrate the accomplishments of students, while recognizing the educators, staff and parents who teach, support and inspire students with exceptionalities.
The awards ceremony will be held on May 23, 2023. For more information about the awards, please check out the Yes I Can Awards video on YouTube.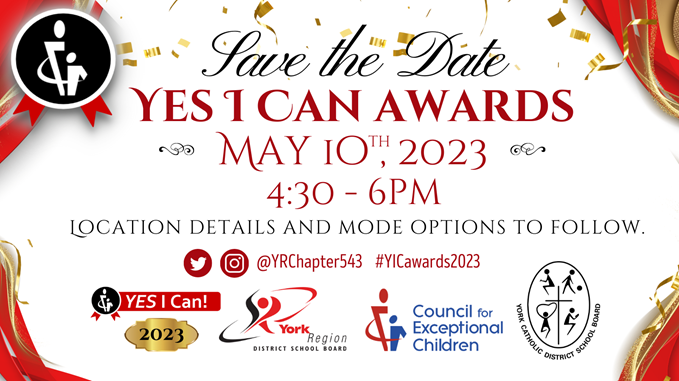 Mental Health Family Resources
---

This school year staff and students have engaged in activities and conversations focused on mental health and well-being centered around the Student Mental Health and Addictions Strategy.  Students have and continue to participate in the learning actions focused on creating identity affirming spaces where students know they matter and belong. The YRDSB Mental Health team has collated a list of resources for families that can be found on their Mental Health Resources page under the Featured and Past Resources section. 
For more information and tips on fostering mental health and well-being, check out the YRDSB Mental Health monthly newsletters throughout the school year. 
Mindomo

The YRDSB has a new assistive technology tool available to students from grades 3-12 called Mindomo. Mindomo is an online mind mapping and concept mapping tool. It offers a collaborative way to break down content, organize ideas, and build critical thinking skills. It can be used for planning, brainstorming, summarizing and displaying research. Mindomo allows students to visualize concepts using many different forms of multimedia including symbols, images, voice notes, hyperlinks, videos and text.
For more information on Mindomo and to learn about its various features, check out this video on creating a mind map. 
Spotlighting Excellence, Achievement & Community
---
Ignite Technology Grant School Recipients

Since 2015, the Ignite Technology Grant has provided students with the opportunity to enhance their leadership abilities, improve their communication skills and increase their self-esteem by sharing their knowledge about the successful use of technology for modern learning. The Ignite Technology Grant, provided in partnership with LEARNstyle, offers $480 grants to schools and a $1000 grant for graduating grade 12 students to use towards the purchase of post secondary assistive technology.
This year, the Ignite Technology Grant Committee decided to surprise all the award recipients at their school and present them with a big cheque to announce that they have won.  Teachers and students were so surprised and it was great to bring such joy to their day! 
Congratulations to the following school award recipients.
Donald Cousens P.S. -  Student led technology club to teach peers about assistive technology programs and applications.

Bayview Hill E.S.  - Robotics and Coding Club to build social, math and literacy skills.

Bakersfield P.S. - Student led club to teach younger students how to use assistive technology to support reading and writing. 

I'm doing this cause not a lot of kids know a lot of about tech. When they get older they will need know how to type quick and do their work more efficiently.

- Grade 7 student, Bakersfield PS

 
---
Learning Disabilities Association of York Region
Social Skills March Break Camp 
The Social Skills March Break Camp focuses on interpersonal skills, (i.e. communication, listening, friendship skills, coping with emotions and stress, conflict resolution and problem solving, self advocacy skills, self-esteem, bullying and cyberbullying topics). It helps to promote self-esteem and self-confidence. The program is designed for children ages 6 to 12 with a primary diagnosis of a Learning Disability (LD) and/or Attention Deficit Hyperactivity Disorder (ADHD). For more information and to register, please contact meghan.beals@ldayr.org or call 905-884-7933 ext. 2.
This program will help participants in secondary school identified with Learning Disabilities and/or ADHD to develop life skills to succeed academically and vocationally. Participants will be provided with strategies on: self-advocacy, executive function, employment soft skills and resumes, as well as understanding their Individual Education Plan (I.E.P.) for grade 12 post-secondary transitions (i.e. workplace, apprenticeship, College, University). Information and resources on post-secondary endeavors will be provided with assistance for making academic and career choices. Sessions will be customized for one-to-one or group settings for 45 minutes for 4 weeks. For more information and to register, please contact Sam Harrison at sam.harrison@ldayr.org or (905) 884-7933 ext.6.
Transition Planning Support
This virtual presentation will cover topics including classroom accommodations, subject de-streaming, transition resources, post-secondary grants and bursaries. It is for families of students with Learning Disabilities and/or ADHD. It will be facilitated by Sam Harrison, LDAYR Education Coordinator, and Andrea St. Onge, Learning Specialist at Xavier College Prep. There will be two presentations on Thursday, April 20. An elementary(grade 8) presentation at 7pm and a high school (grade 11) presentation at 8:30pm. For more information, please contact Sam Harrison at sam.harrison@ldayr.org or (905) 884-7933 ext.6.
---
The SEAC meets on the first Thursday of every month. All are welcome to attend and observe. For more information about SEAC and our SEAC members, please visit the SEAC webpage.
Upcoming SEAC Meetings
The meeting dates for the remainder of the year are set out below. 
March 2, 2023 
April 13, 2023 
May 4, 2023
June 1, 2023