The Teacher of the Year Award honours teachers who exemplify the Board's Mission, Vision and Values as well as other practices that support success in the classroom and schools. The Teacher of the Year Award stands as a symbol of the high regard in which York Region teachers are held and serves as a beacon of excellence for others to follow.
2019 Recipients
Andrea Häefele, Highgate Public School 
Elizabeth Pereira, Milliken Mills High School

The Teacher of the Year Award honours teachers who exemplify the Board's Mission, Vision and Values as well as other practices that support success in the classroom and schools. The Teacher of the Year Award recipients, Andrea Häefele of Highgate Public School and Elizabeth Pereira of Milliken Mills High School, have demonstrated a strong commitment to supporting student achievement.
Andrea Häefele, Highgate Public School
Andrea is an advocate for outdoor learning opportunities and plans, implements and supports staff in outdoor physical education lessons. She has worked with staff members and students to advocate for accessible playgrounds close to the school, and successfully appealed to the Town of Markham to resurface the play areas so that all students could have use of the facilities.
She often engages students as leaders of the Student Champions (formerly Breakfast Champions) where they support the breakfast program. Through this program, more than 80-90 students receive a hot breakfast daily and access to healthy and nutritious snacks. In addition, Andrea has partnered with the Equity Team to build workshops for the junior students on ableism in order to identify the discrimination and impact that occurs when students are targeted because of their differences.
Andrea provides support to families and staff by sharing her knowledge of support services for special needs students. Andrea engages parents and grandparents by bringing them in to teach events - such as the Dragon Dance, multicultural assemblies and "From ME to WE" - or inviting community members to knit scarves and mittens for primary students during the winter Olympics in 2018. As well, she has undertaken a unique school-wide presentation where people with disabilities, or an advocate, are part of a panel and share their narratives.
Elizabeth Pereira, Milliken Mills High School
Elizabeth has been at Milliken Mills High School(MMHS) for 30 years and has been Subject Head of Moderns for 15 years. She works diligently to ensure that the Spanish and French language curriculum is engaging, culturally responsive and relevant for all learners. Her work with the Spanish Centre of Toronto, Glendon College, the YMCA and Spanish Resource Centre at York University has provided invaluable academic and career resources to students. In 2018, MMHS received certification for its International Baccalaureate program (IB). During the summers, Elizabeth contributed many days and evenings at the school in order to create an exemplary IB French curriculum.
Elizabeth has worked with a small team of teachers to support the needs of students of African heritage at the school by developing the Nubian Excellence Club. The student group focused on issues affecting students such as anti-Black racism with a focus on the development of advocacy skills. She has been a long-standing member of the Alliance of Educators for Black Students, initiated its annual fundraiser (for scholarships) and parent conference.
When the boys' basketball program was in jeopardy due to the loss of a coach, Elizabeth was ready and willing to take on the role of staff advisor to ensure that the team could continue. She also provides free tutoring for JK-12 students who have struggled with reading and writing in English and French.​
---
2018 Recipients
Jasdeep Khaira, Ross Doan Public School
George Christoforou, Sutton District High School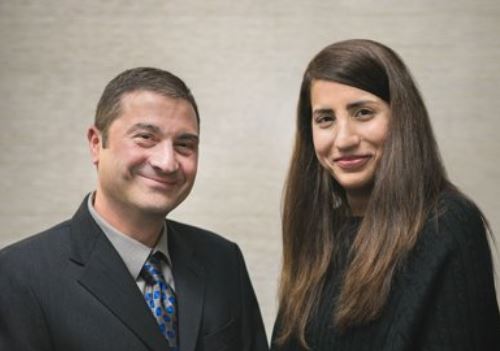 This year's recipients are Jasdeep Khaira from Ross Doan Public School (Richmond Hill) and George Christoforou from Sutton District High School.
Jasdeep Khaira is a Grade 1 and 2 Reading Recovery teacher at Ross Doan Public School. She is also on the Leadership Team, Literacy Team, and Equity and Inclusivity committee. She has taken the lead on various activities that promote equity and inclusivity such as preparing a display case in the front foyer that represents the multiple traditions and celebrations which the school community recognizes. Jasdeep's class performed a Lion Dance for the school to celebrate the Lunar New Year. She has been instrumental in helping staff on equity issues, in collecting and analyzing equity-driven data and helping to set the school equity goals for the year. Jasdeep has volunteered her time to organize the school Play Day, Autism Awareness Month and the Greater Good Club to name a few. She has helped all staff work collaboratively to set school goals for continuous student improvement using assessment data to drive instruction.
George Christoforou has been a hospitality teacher in the Technological Education Department at Sutton District High School since 2008. George and his students operate the school cafeteria. He arrives at school at 6:00 a.m. every day to begin his prep work and shopping duties for the day. George spends many hours each week ensuring he gets the best deals on food for the cafeteria without compromising on quality. He has been pivotal in applying for educational grants to ensure that healthy options like the fresh salad bar and sub/wraps are available to all students. George collaborates with the community classes to grow fresh produce in the school's greenhouse which is used in the salad bar. This supports students' understanding of curriculum expectations and engenders a sense of pride and accomplishment. George provides food at events like graduation, school council forum, semi-formal and the school's annual turkey dinner for the community. This year, he worked with student volunteers to prepare and serve over 650 turkey dinners to members of the Sutton community
---
2017 Recipients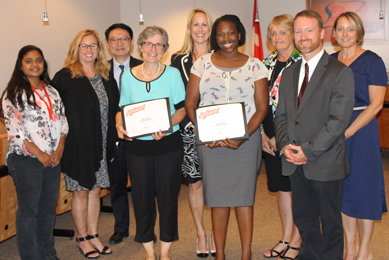 Margit Muller, Pierre Elliott Trudeau High School 
Tisha Nelson, Aldergrove Public School
This year's recipients are Margit Muller from Pierre Elliott Trudeau High School and Tisha Nelson from Aldergrove Public School.
Margit Muller is the Head of ESL at Pierre Elliott Trudeau High School where she works tirelessly to empower the newcomer community, build partnerships and challenge students to take risks in their learning.
Tisha Nelson's goal at Aldergrove Public School is to engage the community, ignite learning and inspire leadership. She excels at motivating learners, fostering inclusion, inspiring innovation and building community.