​​​​Applause! is the monthly recognition of significant achievements and contributions by staff, students and community partners at a York Region District School Board Public Board Meeting.
Recognition of achievements is based on alignment with the organizational goals outlined by the Trustees' Multi-Year Plan in combination with the criteria set out in Staff Awards and Student Awards policies.
2019-2020 Applause Recipients​
March 2020 
Romeo Dallaire PS Student to Play at Carnegie Hall
Romeo Dallaire Public School student Lincoln Haggart-Ives, will head to New York City in June to play at Carnegie Hall.
Lincoln is a finalist in the American Protégé Music Competition, a competition for young musicians, actors and singers that gives them an opportunity to showcase their unique talents. When Lincoln plays his violin in the winners' circle at Carnegie Hall, he will perform a rhapsodic piece by Csárdás, written in 1904 for violin, mandolin or piano.
Lincoln earned a place in the winner's circle after his mother submitted an audition tape on his behalf. He was up against the largest number of competitive applicants on record, with entries from various parts of the United States and 58 other countries.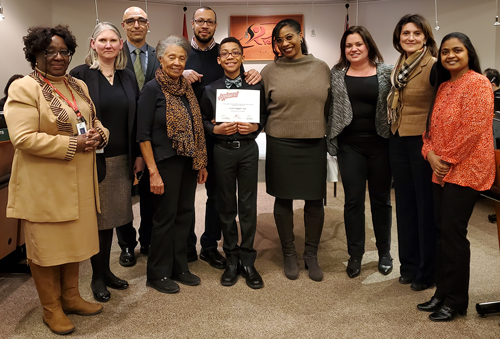 University of Waterloo Financial Literacy Contest Success
The University of Waterloo offers high school students the opportunity to develop confidence and competence in making financial decisions by testing and challenge their knowledge of personal finance and wealth management through the Financial Literacy Competition (FLC).
Approximately 850 students representing 39 different schools across Canada participated in the December 2019 competition. The FLC is offered to Grade 9, 10 and 11students enrolled in high schools across Canada (excluding Quebec).
The results of the December 2019 Competition are in and Middlefield Collegiate Institute (MCI) has earned the #1 ranking and is the recipient of the Top Performing School prize. In recognition of this achievement, the school will receive a cheque for $500 to be used for classroom enhancements related to financial literacy and/or celebration activities for the contest participants.
In addition, two students in the Middlefield CI Introduction to Business class, Shreyas Nyapathi and Harrish Uthayakumar, achieved top 10 results in the provincial contest. Both Shreyas and Harrish will receive $75 cash prizes as well as University of Waterloo Financial Literacy Competition certificates.
​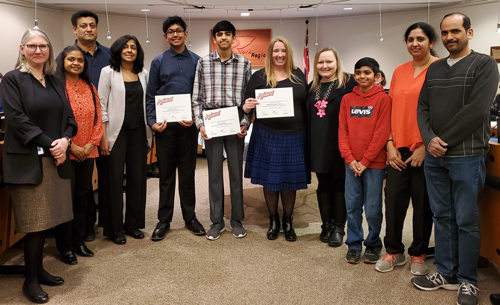 ---
February 2020
Black History Month Recognition - Matthew Eastman
In honour of Black History Month, York Region District School Board is highlighting and celebrating stories of Black Excellence throughout the month of February. Celebrating Black excellence is a way for our Board, to recognize the many contributions of our Black students and staff.
Matthew Eastman is a Grade 12 student and a leader at Thornhill's Stephen Lewis Secondary School (SLSS). In the fall, he started the Black Student Union at SLSS. The club is focused on raising student voice of the school's Black students and ensuring that all students at SLSS have a voice.
With the help of his teacher sponsor, Matthew is working with Vaughan African Canadian Association. Matthew took the lead to find the teacher sponsor, rally students and work with administration to make the club a reality.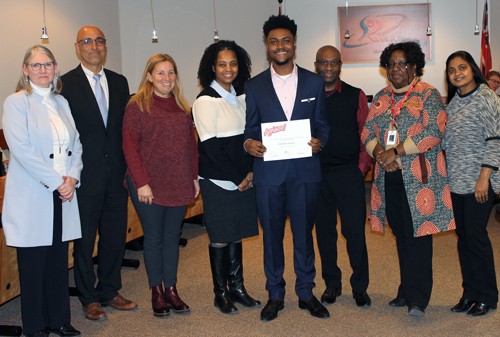 ​Caretaking Team Goes Above and Beyond to Support Community Vigil
An emotional community vigil, attended by approximately 3,000 people, was held at Dr. Bette Stephenson Centre for Learning to honour the victims and show support for all those affected by the January 8 plane crash in Iran, a tragic event that has deeply affected the York Region community.
The caretaking team at Dr. Bette Stephenson Centre for Learning went well above and beyond normal job duties to ensure that the Board was prepared to welcome so many people to the vigil. Under the guidance of Drew Kerr, Supervisor of Facilities, the team helped staff by providing flashlights and safety vests and mapped out the outdoor field into designated zones. They also helped escort young families through the school to escape the January weather.
The caretaking team includes Drew Kerr, John Bisogno, Angelo Tucci, Kristina Anderson, Randy Clark and Thomas Cooper. Their professionalism and level of care was deeply appreciated by YRDSB colleagues and community members who attended the vigil.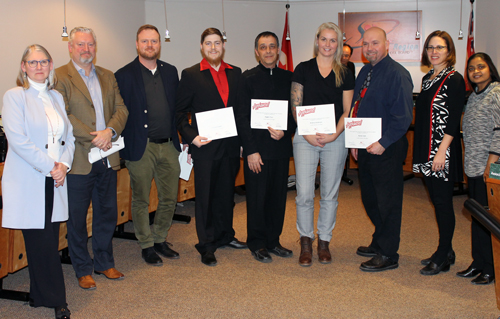 ---
December 2019
Middlefield Collegiate Institute Teacher Recognition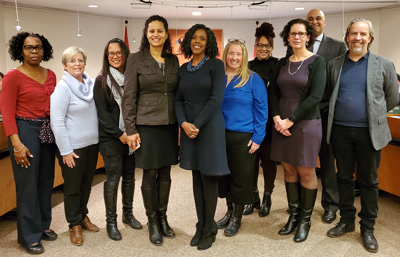 Claudette contributes greatly to the Middlefield Collegiate Institute community as exemplified in the holistic support and thoughtful mentorship she provides as staff advisor to the African Caribbean Club (ACC). Through ACC, she offers students access to unique cultural enrichment year-round and helps students develop school-wide Black History Month programming. Claudette Rutherford is a compassionate and action-oriented inclusive leader and role model for all of her students. However, because of Claudette's identity as a person of African Caribbean heritage, she is committed to transformative education, and she has had an incredibly positive impact on Black students and families.
Claudette is also a leader and mentor for staff in the York Region District School Board. Over the past two years, Claudette has partnered with Inclusive School and Community Services (ISCS) staff to deliver workshops and programming, including anti-Black racism workshops at the Board's Equity Symposium during the 2017-18 and 2018-2019 school years. She is part of ESSAC's Data Diversity sub-committee and has worked on a program designed to create awareness about different cultural identities in two schools with differing demographics. Claudette along with three other teachers from Middlefield and Sutton District High School led equity learning for the students.
Claudette has roles beyond her professional career as a teacher that serve YRDSB students well. She is the Youth Director for the Markham African Caribbean Canadian Association. As Director, she operates subsidized summer robotics and literacy camp for elementary school students. In February 2019, Claudette started a mentorship program called Kinnect Youth for Black youth in foster care after seeking out and securing Ministry funding.
In 2017-2018, Claudette designed and organized the MACCA Youth Empowerment Conference and she worked in partnership with York Region District School Board ISCS staff to select teachers and students to present at the Conference. In April 2019, YRDSB students from multiple high schools had the pleasure of attending the Black Male Youth Legacy: Design Your Future Conference at York University that was co-planned and co-led by Claudette and Christoff Kyere. Besides YRDSB students, the 150 participants also came from high schools in Toronto and the Greater Toronto area. Conference participants were inspired that they were capable of achieving greatness and they were given the opportunity to design their future with culturally responsive and relevant support.
Claudette has worked to support parents/guardians of Black students in the York Region District School Board and beyond. Claudette organized and chaired the inaugural meeting that was held at the Aaniin Community Centre in April 2019. Her contributions have resulted in the positive promotion of the Board and the development of community partnerships.​
---
November 2019
Solar Oven Challenge Champions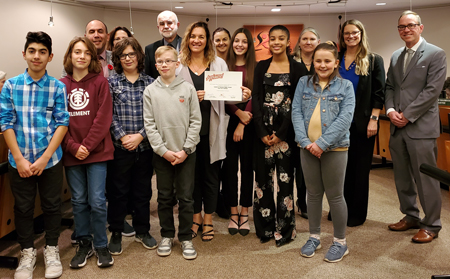 Lester B. Pearson Public School in Aurora has won first place in a national energy competition.
Green Learning Canada hosts a renewable energy challenge for Canadian classes every year which challenges participants to build, test, and bake with solar ovens. Students use the solar oven construction plan provided by re-energy.ca or they can choose to design their own plans. It is designed to teach students about solar heat, solar electricity and other clean energy technologies as well as culinary arts, food safety and culture. Classes ranging from Grade 3 to Grade 12, and from science classes to environmental clubs, compete in the annual Challenge.
Two Grade 7 classes, led by teacher Elisabeth Brigid Duggan, participated in this year's Solar Oven Challenge. Using mostly recycled materials from the school's recycling bin, the students designed their own plans and each class tested their solar oven outside several times using several recipes.
The students invited their Grade 3 and 4 reading buddies to participate and helped raise awareness of solar energy within a collaborative learning environment. The challenge was also an opportunity for teacher Elisabeth to make a connection with the Grade 3 First Nations curriculum and the Grade 7 history curriculum.
The solar ovens were judged based on criteria such as maximum temperature reached, unique designs, originality of recipes and the use of social media. Both classes concluded that their biggest challenge using solar ovens in Southern Ontario was this year's late spring, the lack of sunshine, the amount of cold weather and the continuous rain and cloud.
The class documented their learning and shared it with the Lester B. Pearson PS community through an Instagram account that was used to post pictures of their progress. The solar ovens were also put on display during the school's Arts Night in the spring.