Once your Edsby account has been activated, select the Registration link and login to Edsby with your email username and password and follow the instructions below. 
If you do not have an active Edsby account you will be prompted to create one when you click on the Registration link above.  If you have forgotten your password click on "Forgot Password" and follow the instructions to reset your password.
1. On your Edsby home page, click on 'Registration Campaigns'.

2. Which child do you wish to register for this program?
a) If you are a YRDSB parent who has activated their Edsby parent account, select your child's name from the dropdown list in the first section and click 'Next'. Only those children who are currently in grade 4 or grade 5 are eligible and will be available on the drop down list. Since your child's information is on file with their current school, you will automatically proceed to Step 2 "Email Information'. 
b) If you have never activated an Edsby parent account, select 'Register a New Child'.

3. Register a New Child: Complete the 'New Student Information' page.
Tips for completing Student Information: Fields marked with * are mandatory. For a non-YRDSB student, select 'New/Out of district' as the 'Current School' In the 'Address Search' field, begin typing the street number and street name and select the correct address from the search results. The form will auto fill with the address you select.
NOTE: do not change the  Township field from "Regional Municipality of York"
IMPORTANT: the e-mail address used to create your Edsby account will be used for any correspondence.
4. Email Information: Please enter either your child's GAPPS (google application email all YRDSB students have) email address, or if your child does not currently attend a YRDSB school, please enter your child's preferred email address.

5. Acknowledgement: Please check each acknowledgement task to proceed with completing the application.  This is mandatory and you must complete it before you can proceed with the application.

6. Attachment:  You will be required to upload your child's 8/5x11 submission page in one of the following formats to accompany your application:
Picture

Google Doc

PDF file 
Please click the "Browse" button and select your desired attachment.  Follow the on screen instructions to submit your attachment.  Please DO NOT submit a photo of your child.

7. Summary: You will be presented with a summary of your application details. Once you have confirmed that your application is correct, click "NEXT" to proceed with completing your application.

8. Rate your Experience: You will be presented with questions regarding your experience with the online application process.  We greatly appreciate your feedback in an effort to improve  this experience  for the future.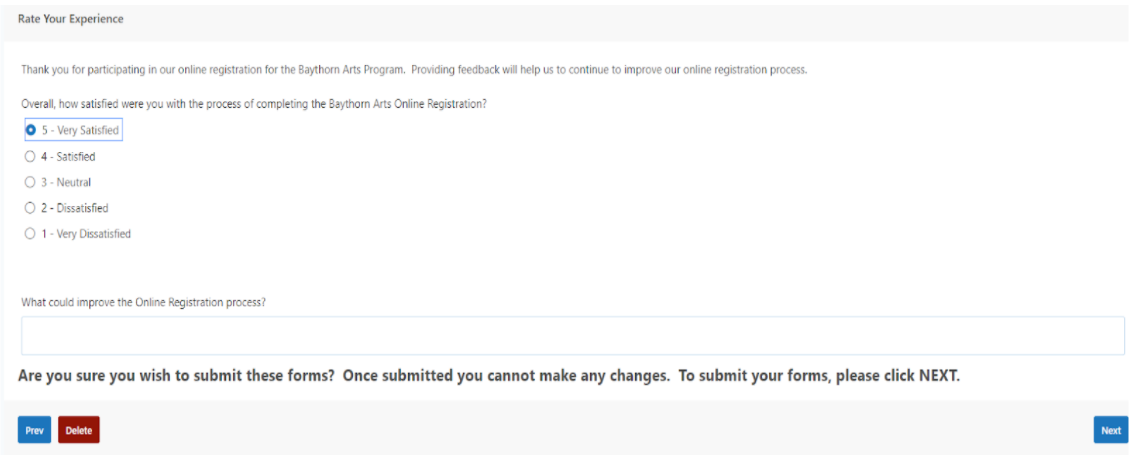 9. Submitted
Once you have submitted your application you will receive a confirmation notice that your registration has been successfully submitted and is under review.  You will be contacted by the email you used to log into Edsby with for further information and details on the application process.

Questions
---
If you have any questions or concerns regarding the registration for Arts@Baythorn program, please email baythornps@yrdsb.ca or call 905-889-7992.