Welcome to York Region District School Board​!
Starting Kindergarten is an exciting time for everyone. We look forward to welcoming you and your child into our learning spaces. Our goal is to support your child's learning, well-being and achievement. 
Our Kindergarten classrooms offer warm, welcoming and caring environments where students learn through exploration. Learn more about our Kindergarten program and routines. 
Is your child getting ready to start kindergarten? Check out our  tips for families. We believe that forming strong partnerships with families is a primary factor in achieving success and encourage you to engage in your child's education.
Will you need before and after care for your child? We have partnered with community agencies to provide child care for school-age children. Find out what's available at your school.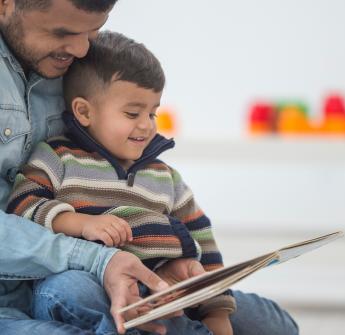 Kindergarten Registration is Open
Starting Kindergarten is an exciting time for everyone. We look forward to welcoming you and your child into our learning spaces.
Welcome Message from the Director of Education
This message is also available in the following languages: Arabic, Chinese (Simplified), Chinese (Traditional), Farsi, Gujarati, Hebrew, Korean, Punjabi, Russian, Tamil, Turkish, Urdu, and Vietnamese.
Or you can use the "select language" button at the top right on this page. 
January 2023
Dear Families,
Welcome to Kindergarten in the York Region District School Board.
Kindergarten is an exciting time! Your child will have an opportunity to make new friends, and to learn through exploration, play, and inquiry. Kindergarten children develop early literacy and numeracy skills. They also develop a sense of connection and belonging, explore and apply problem-solving skills, and deepen relationships through collaboration and meaningful learning.
Our Kindergarten classrooms are caring and welcoming spaces that inspire joy, awe, and wonder. Educators are committed to creating learning environments that reflect children's diverse cultures, identities, strengths, and interests. In these inclusive learning spaces, children feel safe and supported to share their ideas and lived experiences. We want them to know and believe that they matter and belong. We invite you to learn about our intentional work to create inclusive learning environments, including the Dismantling Anti-Black Racism Strategy and the Indigenous Education and Equity Strategy, at www.yrdsb.ca.
We appreciate that families have many questions about what Kindergarten programs look like as a result of the pandemic. As a school board, we prioritize the health and safety of our students, staff members, and their families, and we continue to work closely with York Region Public Health to ensure we are taking all appropriate measures. As we approach the 2023-2024 school year, we will share information with families so they know what to expect. You can learn more about the current health and safety measures on our website.
We look forward to inviting Kindergarten families to a spring orientation event, Discover Kindergarten, to learn more about your child's school and what you can expect in Kindergarten. Your child's school will be reaching out with additional information. We place great value on the essential role that families play in learning and building strong collaborative relationships between home, community, and school. YRDSB's skilled and caring educators are partners with you in making your child's transition to Kindergarten a positive one.
We invite you to visit www.yrdsb.ca, where you can learn more about the Board, your school, family resources, and our Kindergarten program.
We look forward to welcoming your child to Kindergarten!
Sincerely, 
Scott Yake
Director of Education (Interim)
York Region District School Board
---