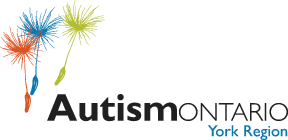 Mission
Growing acceptance, community and opportunity for people with autism in York Region.

 
​What types of services/support do we offer?
Summer Day Programs
Family Support
Educational and Recreational Activities
Who is eligible for our services/support?
All ages within York Region
Contact us
Autism Ontario
11181 Yonge Street, Unit 215
(905) 780-1590
Email: york@autismontario.com
Visit the Autism Ontario - York Region website​ for more information.
SEAC Representative - Sue Walters
Email: swalters905@gmail.com
SEAC Alternate Representative - Fiona Goy
​​​​​​