Municipal Election Day is Monday, October 24, 2022
York Region District School Board is comprised of 13 trustees representing all nine of York Region's municipalities and Indigenous students. Trustees are responsible for overseeing a progressive educational system that serves over 126,000 students in 213 schools. Elected for a four-year term by public school supporters (in accordance with the Municipal Elections Act), trustees are empowered under the Education Act to set policy for the operation of all public schools in York Region. The Indigenous trustee is appointed. All school board trustees are an important link between the school system and the community.
On October 24, 2022, trustees will be elected for a four-year term beginning November 15, 2022 and ending on November 14, 2026.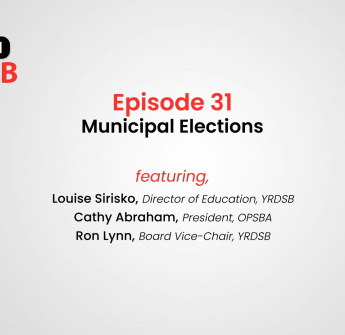 Tune In YRDSB Podcast Episode: Municipal Election
Learn more about the role of trustees, the importance of making an informed vote, what a typical day for a trustee looks like and more in the Municipal Election episode of the Tune In YRDSB podcast. 
Important Information
Recent legislative amendments have resulted in changes to the election calendar.
The first day nomination papers may be filed is May 1, 2022. Nominations will close at 2:00 p.m. on Friday August 19, 2022.
Here are the certified municipal candidates, as of 4:00 p.m. Monday, August 22, 2022.  Each York Region municipality lists information regarding the municipal and school board trustee candidates.
Trustee Roles and Responsibilities
 Under the Education Act, trustees are mandated to;
promote student achievement and well-being
deliver effective and appropriate educational programs
develop, maintain and monitor effectiveness of Board policies
develop, communicate and review annually a Multi-Year Strategic Plan
monitor the performance of the Director of Education
practice responsible stewardship of Board resources
Learn more about Trustee Roles and Responsibilities.
2022-2026 Trustee Electoral Areas
The Board has decided on the Trustee Electoral Areas for the 2022-2026 Municipal Election. 
Candidate Qualification Guidelines
Candidates must adhere to the qualification/disqualification guidelines outlined in Section 219 of the Education Act, and must be;
a Canadian citizen,
a resident of York Region,
at least 18 years of age, and
a public school tax supporter.
Individuals interested in becoming a trustee should contact their local Municipal Clerk's office to obtain instructions about the election and nomination processes, campaign finances and any other important information outlined in the Municipal Elections Act.
Public school supporters in York Region are eligible to vote for the position of York Region District School Board Trustee.  For questions or to change your school support preference, please contact your local Municipal Clerk's Office.
Timelines
| | |
| --- | --- |
| Municipal Election Period Begins | May 1, 2022 |
| Nomination Day (last day to file or withdraw nomination papers) | August 19, 2022 at 2:00 p.m. |
| Election Day | October 24, 2022 |
| First Day of New Term of Office | November 15, 2022 |
| York Region District School Board Inaugural Board Meeting | November 21, 2022, at 7:00 p.m. |
| Filing Deadline for Campaign Expenses (Candidates may contact Municipal Clerk's Office for additional details) | March 31, 2023 |
Information for Public School Trustee Candidates
There are several resources available for individuals interested in becoming a Public School Trustee Candidate.
About York Region District School Board:
Information about the Role of Public School Trustee:
Answers to frequently asked questions and additional information for candidates is available in the Municipal, Provincial and Federal Elections Guideline.
Trustee Honoraria
Effective November 2, 2021, based on student enrolment calculations, in accordance with the Education Act and Ontario Regulation 357/06, Trustee honoraria is set at $23,076.12 for trustees, $28,076.12 and $33,076.12 for the Vice-Chair and Chair respectively. Additional funds are allocated for reasonable miscellaneous, professional development and communication expenses incurred in a trustee's term of office, as outlined in Policy and Procedure #220.0, Trustee Services.
---
For further information, please contact Trustee Services by email at trustee.services@yrdsb.ca or phone at 905-727-0022 Ext. 2266, 2327, 2570 or 2049.